Shelley Ng Bridges the Keys to Connect with the Community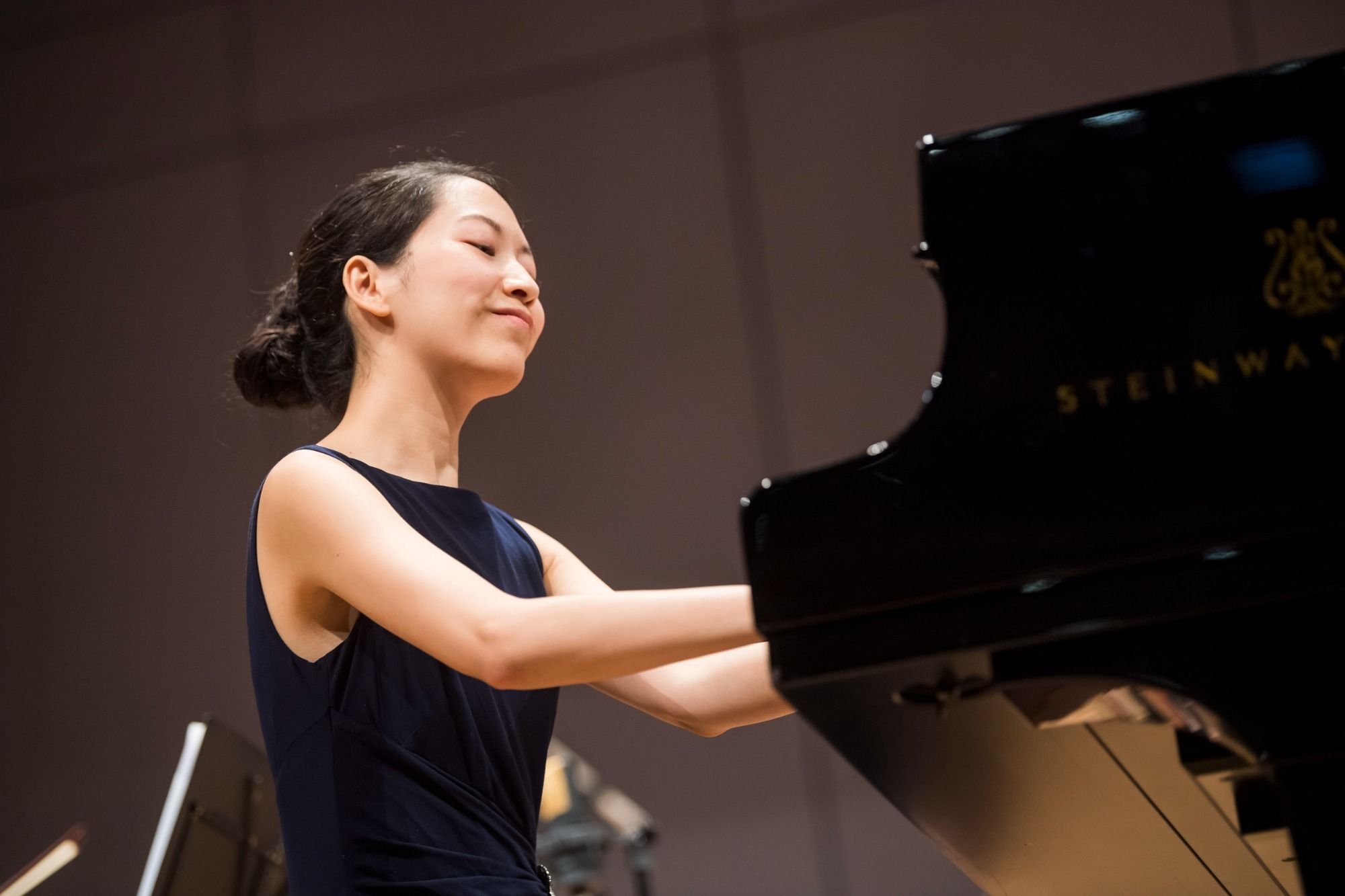 Photo courtesy of Shelley Ng.
Internationally acclaimed pianist Shelley Ng is the current Emerging Artist resident of the Hong Kong New Music Ensemble. She has performed as a soloist and in chamber ensembles at venues including Carnegie Hall (New York), Seiji Ozawa Hall (Tanglewood), Harris Hall (Aspen), Milton Court (London) and the Hong Kong Cultural Center. She recently débuted Daniel Lo's The Happy Family, curated and performed the concert Remembrance with the Hong Kong New Music Ensemble, and was the featured pianist on Stephen Yip's Quietude. In addition to performing with orchestras around the world, she works extensively with dancers and actors in interdisciplinary works.
Read more about Shelley in conversation with WHRB below, and be on the lookout for upcoming concerts and releases from her website.
The transcript below has been edited for conciseness and clarity.
You just performed at the Santa Fe Chamber Music Festival on October 22nd with a program featuring works by Haydn, Chopin, Liszt, Neikrug, and Messiaen. How did it feel to perform in-person (presumably) again in the US?
Shelley Ng: It was my first performance in the US after COVID, and it was surreal. It has been so long—almost two years. It was very beautiful and intimate, considering the many virtual concerts I had. In the beginning of the pandemic, most performances in Hong Kong were cancelled or postponed, so virtual concerts were the only option we had. They felt very different because I didn't get to interact with the audience. It was almost like recording for an audition. I didn't realize until later that I really missed interacting with the audience, feeling the energy and vibration together.
How are virtual performances different from live performances?
I still remember performing on the cruise in early 2020, right before COVID. Numerous guests on the ship told me how the concerts converted them from someone who hated or never listened to classical music to someone who never missed our concerts. (We had three concerts a day!) The way I explain this is that live performances are irreplaceable. You may think Classical Music is boring if you have only listened to them online or when you are commuting, but there is something communicative in music and its energy that can only be experienced when you fully immerse yourself in it, and that is what I miss most about live performances. Therefore I usually include short introductions before I perform virtually so that there is a little more connection with the audience, although you really can't replace the intimacy of an in-person performance.
Concerto performance in Hong Kong. Photo courtesy of Shelley Ng.
What drew you to contemporary music, given that most pianists start with classical foundations?
It was all very gradual. At the very beginning of working with the Hong Kong New Music Ensemble, I had little experience with contemporary music. It was important to learn step by step, and it was this whole new world I was drawn to. I still remember a lot of fun moments playing Antheil's Ballet mècanique for 4 pianists and 11 percussionists, John Cage's Concert for Piano and Orchestra, and more. Getting to work with faculty members, composers, and conductors like Thomas Adès who specialised in contemporary music during my two summers at Tanglewood was particularly eye-opening. I learned so much through approaching music from various perspectives and working with living composers.
What are the biggest adjustments you had to make in learning contemporary music?
I would say I'm a pretty good sight reader, but in contemporary music, it is not that easy. You can't just assume what will happen next and go from there. There is no common practice to refer to in contemporary music. It's like learning something from scratch. I try to explore why something is written this way, and how I can convey what is meaningful. It has taught me a lot about communication and to be open-minded.
In addition to performing interesting music like contemporary versus traditional/classical, you also perform with unique groups like the Hong Kong Medical Association Orchestra, an orchestra composed of medical professionals. What was that experience like?
It was inspiring, and I enjoyed it a lot. They may not be full-time musicians, but they have a strong commitment that sometimes you do not even see in professional musicians. They go to every rehearsal with excitement and they are always focused. The pure joy they have when they play music gives me energy during rehearsals.
So you would describe your relationship with the audience and music, then, as giving you energy to inspire you to keep going forward.
It's always mutual. It's not just the performer performing for the audience. I am also taking something.
How did you find your current residence with the Hong Kong New Music Ensemble?
I started as their fellow five years ago when I started exploring contemporary music. Then, I recorded Stephen Yip's album (Quietude) and performed in the Taiwan International Festival of Arts as a guest artist. I was really excited to work with them. They have innovative ideas of programming concerts, and they connect us with living composers as well. They also welcome the input of musicians, which I really appreciate. For example, in the past few months I curated the Remembrance concert with their support, and I've also been able to play a 200-year-old square piano in a Beethoven concert, directly from the surviving manuscript source, which was possibly a world premiere of the Beethoven's String Trio Op.3 with the added keyboard part. I also played the different versions of the Bagatelle Op.126, including sketches and the continuity draft.
What did you learn in curating the concert Remembrance?
SN: It was the first time I consciously put something together with contemporary music in mind, bridging it with classical music. It was during COVID, and at the time, I felt that we were all turning more inwards in what we were feeling. We questioned who we were and how we connected with the world. We all have complex emotions, and I wanted to touch on that in the concert. For example, Smetana wrote his "Piano Trio in g minor" after the death of his young daughter, and I paired it with Knussen's "Sonya's Lullaby," which was written for his four-month-old daughter. It's the pairing of life and death, and love and memories. It really worked as a concept and even intensified because of where we were in the pandemic.
That's a lot of layers of meaning, and the audience was able to hear the pieces in juxtaposition when they are not usually presented together. Everyone in the pandemic can relate to themes of life and death. That sounds like a great concert!
What other interdisciplinary work have you done in performance?
SN: I always love working with dancers and actors. The way they feel their body, emotions, and the way they focus on mental space are very different from us musicians. Because musicians have so much to work on in their technique, we never get the full understanding of our emotions and our bodies. Dancers, however, feel the music with all of their body. They feel complex rhythms much faster than us. For musicians, we have to count or depend on the conductor. Dancer's don't—they feel it, and they know it almost instantly. It's fascinating.
In addition to all that you do with these interdisciplinary projects, you also volunteer quite a bit. You held an autism benefits concert in 2016 and volunteered at a no-kill shelter in Houston in the past. Why do you feel that volunteering is so important as a musician?
SN: All these projects are important to me. It's very easy for musicians to stay in the bubble of our profession because it's been what we've been trained to do since we were little, every day and every year. But if we don't extend ourselves, we can be very disconnected with the world. I don't want that. I do feel that it feeds my music as well—what I see, what I hear, what I experience become part of my music.
Photo courtesy of Kaisen.
On that thought, how do you see music as more than personal expression, but as a tool for change and impact in the world?
Music makes us realize how similar we are, no matter how different we look or express ourselves. When people are depressed, anxious or lonely, they know that they are not alone when they listen to music as someone out there is feeling the same as they are. Music also makes us realize that every small detail we make affects everything around us: the smallest rest makes a huge difference. In the past few years, many of us have become frustrated by things that do not go our way like politics or the pandemic, and sometimes we feel there is nothing we can do. But I want to believe there is always something small and kind and loving that we can do to make the change we want to see in the world.
In reflecting on your career as a whole so far, have you been able to achieve your dreams in your journey as a pianist?
I started playing the piano because my mom taught piano, but I never thought I would be a pianist. When I was choosing my major in undergrad, I thought I would choose Psychology because I wanted to connect with people on a deeper level, especially emotionally. My parents strongly recommended that I choose music. Nancy Loo, my mentor from Hong Kong, really showed me how much music connects with life—and I realized then that there is so much more in music that I had not known before. It has been a continuous search in music for myself and a way of personal growth.
What are your upcoming plans?
Actually, the pandemic has taught me to not plan too far ahead! I'm focusing more on my music and personal growth. Still, I will be giving a recital and masterclass in Magnolia, TX this week, followed by performances on Zuiderdam, a cruise ship of Holland America Line as the pianist of the piano quartet in residence, then I will be returning to Hong Kong for solo recitals, concerts with the Hong Kong New Music Ensemble and in the Hong Kong Arts Festival.
Any words of wisdom to young musicians out there?
I used to feel that I am very insignificant. As a musician, it's hard to think of ways you can directly contribute to society. The performance is over, but so what?
Over the past few years, I have learnt that we should never underestimate what we do. I have had a daughter write to me after attending my concert with her mother, 'Your performances have deeply touched our hearts and have reconnected us with music and each other, and I thank you for that.' Her mother cried after the performance because she gave up her dream of being a pianist to raise her daughter. Sometimes, because of your music, someone feels like they have opened up part of themselves. I once improvised "Amazing Grace" on radio for an incarcerated person because his mother had passed away and he had not cried since then—but he did after hearing the improvisation. That was how he could finally release his emotions. I didn't even know him then, and now we have been penpals for over a year!
These are things I never would have expected to happen, but they do when you take something seriously and do something kindly and lovingly. When there are changes we want to see in the world, it's not really about the profession we are in. I believe every word we say, (I still remember how an old man cried simply because I smiled and said thank you.) Every action, every decision we make, the energy we give out, everything contributes to changing the world. To whoever feels lost, just do what you think is right and there will be great change.
Felicia Ho is a producer for the Classical Music Department.