Squirrel Flower Shares Sorrowful and Stunning "Streetlight Blues"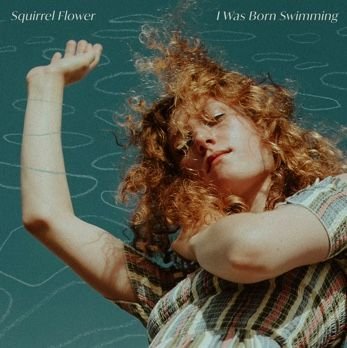 Listen
The Boston-based Ella O'Connor Williams, who performs as Squirrel Flower, released the beautifully elegiac "Streetlight Blues" as the third single from her forthcoming debut album I Was Born Swimming, and this poetic song is well-worth a close-read or, rather, listen.
"Streetlight Blues" opens with Squirrel Flower singing an evocative pair of lines: "Bugs in the streetlight / our time is over soon" accompanied by her restrained but affecting electric guitar playing. Particularly lovely is the falling melisma she uses on the last word of the line. She repeats this memento mori once in the same fashion, before adding, with more intensity: "Don't say that you love me then make other plans" – drums kicking in on the final word.
After a short country-inflected instrumental interlude, Squirrel Flower picks up with the second verse: "All my friends are at the party / But I got other plans / My body is buzzin' as I start to dance." The near rhyme on "plans" and "dance," deftly ties the lines together. Moreover, on the topic of connected images between the verses, Squirrel Flower now almost seems lyrically metamorphized into one of the "bugs" from the opening – her body "buzzin'" like theirs might.
In the third verse, Squirrel Flower skillfully synthesizes imagery from the first and second verses, repeating four times with building instrumental intensity: "We're a streetlight buzzin', about to go out." That the streetlight itself is "buzzin'" like Squirrel Flower and the bugs, suggests its liveliness, but also indicates that it is "about to go out" – or die.
In the final verse, Squirrel Flower returns to her opening couplet. Her words "our time" now seem to signify not just this particular relationship coming to an end, but to a broader array of endings, such as of the night itself, youth, or even life – at least the lives of the seemingly doomed bugs.
This may seem a lot to hang on apparently simple lyrics, however, Squirrel Flower explained in an Instagram post that the song is "about blowing off your friends to dance alone in waves of emotion, about the end of something- life, seasons, a relationship, a streetlamp." What Squirrel Flower leaves the listener with is not only a sense of sorrow but also of beauty – that in the fleeting period of time we have, we might buzz and dance and maybe, make exquisite art.
You can listen to Squirrel Flowers' music here. I Was Born Swimming drops on January 31st.
//A.J. Cohn '21 is a DJ on Record Hospital