Staging Music: Conductor Ryan Turner on Dance and Dialogue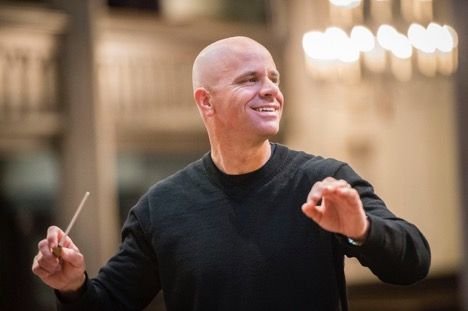 Photo by Emmanuel Music
Listen
WHRB Classical Producer Allison Pao had the opportunity recently to speak to conductor, singer, and educator Ryan Turner. Mr. Turner is the Artistic Director of Emmanuel Music, a Boston-based musical ensemble of singers and instrumentalists originally founded to sing the complete cantatas of Johann Sebastian Bach. In addition to performing over 170 Bach cantatas, Mr. Turner has also premiered contemporary works by living composers such as John Harbison and Matthew Aucoin. As a tenor soloist, he has performed in oratorio, recital, and opera. He made his Carnegie Hall debut in 2008 as a soloist in Handel's Messiah and returned in 2016. Finally, he is on the early music and voice faculty at the Longy School of Music of Bard College. Mr. Turner will be directing a concert with the Harvard Glee Club and Urbanity Dance next Friday, February 23rd, at 8 pm in Sanders Theatre. They'll be performing works by Matthew Aucoin and John Harbison, as well as Stravinsky's opera-oratorio Oedipus rex. In an exclusive interview with WHRB Classical, we asked Mr. Turner about his upcoming concert, as well as his thoughts on music and dance, the performance of new works, and the relevance of old music today. Read on for a preview or listen to the entire interview above.
Pao: Can you explain how you'll incorporate Urbanity Dance into this concert?
Turner: The first piece, Aucoin's Orphic Moment, to me is begging for some sort of movement-representation, movement-interpretation. The singer is essentially Orpheus, but the singer could be a countertenor, it could be a mezzo; to me, it's a non-gender specific singer. And the violinist represents Eurydice. So it struck me that adding in a dancer as somewhat of a physical representation of Orpheus could work quite well.
P: Do you foresee more collaborations with dancers in the future of Emmanuel Music or in classical music in general?
T: Oh gosh, I hope so. I think that dance and music are such a perfect marriage. And I also think that for our audiences now and for me personally, the idea of concert performances, the sort of "stand and sing with your music" is somewhat an archaic form, and I think anything we can do to add another layer of understanding and interpretation and engagement for our audiences is exactly what we need.
P: Speaking of audiences today and contemporary works, can you speak about your experiences premiering new works? What is the process like? When you work with living composers, do you get an opportunity to shape the piece?
T: To me, that is the most exciting part about it – the dialogue. As conductors, one of the things we always wish we had was that connection to the composer. And our job is always to try to figure out "what did this composer want?" And so to actually be able to just ask them, it's a thrill! And it helps really be a conduit from composer to conductor to audience.
P: In terms of programming, is it difficult balancing the old with the new? I know that classical audiences today might expect certain famous pieces to be performed, so how do you incorporate and present these new works?
T: On this concert specifically, Stravinsky's Oedipus rex, now 90 years old, is kind of an old piece. I think we often think of Stravinsky as being modern, but there's nothing quite so edgy about him anymore. I think it's a little bit more in our musical consciousness as something that is accessible. And of course, in this case, this is Stravinsky in his neoclassical era, and specifically in Oedipus rex, there are shades of Bellini, of Verdi, there's this great moment that I think sounds like it could be a Handel chorus. So he's always calling upon previous forms and previous composers, so that's a little bit of the connection to what Emmanuel typically does, which is baroque music - we sort of live in the 18th century often with the cantatas of Bach. But I also think that these pieces speak to each other really well. If not intentionally, there are even some melodic themes that are merging between the Aucoin and the Harbison that are unknowingly in dialogue with one another. To me, the excitement is finding these connections between pieces that had no intention of being connected.
P: That's really interesting. So when you perform older works, such as Bach's cantatas, which you mentioned you frequently do with Emmanuel Music, how do you balance tradition with innovation? Do you stick closely to historical performance traditions?
T: Well, at Emmanuel Music, we all play on modern instruments. Part of that is practical – we do a cantata every weekend, and just the reality of staffing a period ensemble every week really wouldn't be practical. The second part of it is that because it's a rather versatile ensemble that for example, this weekend is doing new works and works by Stravinsky, I personally and my predecessor and founder Craig Smith, like the flexibility of modern instruments in terms of the broad range of repertoire one can do. I think that we are informed in that we try to use as many baroque stylistic things as we can applying them to a modern instrument. In terms of the Bach cantatas and how do we kind of make them fresh and alive and new – I mentioned before that we did this secular Bach Cantata Phoebus and Pan choregraphed with Urbanity Dance. I recall before my time in Emmanuel, our founder Craig Smith did a program that was a pairing of the Kurt Weill Mahagonny Suite with Bach cantatas, and he changed the instrumentation of the Bach cantatas to match that of the Mahagonny Suite, So you had what would have normally been an oboe solo played by an alto saxophone. And I also think that the themes in these Bach cantatas, the text, while these are pieces that were written 300 years ago, the themes of questioning one's faith and isolation and there are so many different themes that still resonate with us today and are actually incredibly timely.
---
Allison Pao is a Producer for WHRB Classical. You can hear Ryan Turner conduct Emmanuel Music in collaboration with the Harvard Glee Club and Urbanity Dance live on February 23rd in Sanders Theatre. Tickets can be purchased here: http://www.emmanuelmusic.org/index.htm