Staying For A Little While With Yellow Days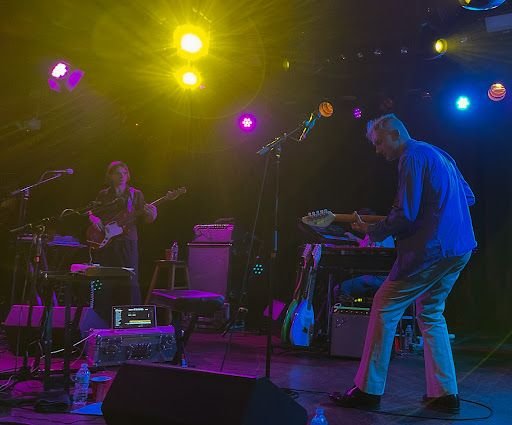 // Image courtesy of Katia Soares dos Santos.
If anything is emblematic of Yellow Day's concert at Paradise Rock club it would be his pastel colored Vox Mark III teardrop guitars. Saturated, frivolous, with a nostalgia for the 1960's, the warm atmosphere of the Yellowdays Concert stood in stark contrast to the bitterly cold Boston winter that lay just outside the door.
Yellow Days is the musical project of George van den Broek. Born in Manchester, England, van den Broek began releasing music in 2015 under the name Yellow Days. He has taken inspiration from artists such as Mac DeMarco, Ray Charles, and Thundercat to create an unique sound that conglomerates aspects of soul, bedroom pop, and synth.
The show began with an opening performance by Ric Wilson, a funk and rap artist from Chicago. Wilson set the tone of the show immediately telling the audience to raise their right hand in a fist and repeat his chants: "No racists! No sexists! No homophobes! No transphobes!" What followed suit is difficult to categorize as whether it is a performance or Wilson enjoying himself. Wilson is an unforgettable act, dancing with more zeal than many dare to in the privacy of their own homes. Wilson continued this intimacy with the audience through establishing direct dialogue with them. Wilson walked to the center of the stage, put the microphone back in its stand, let down his hair, and said, "I'm going to rap a little, if that's okay with you." The audience swelled applause and cheers in the affirmative.
// Image courtesy of Katia Soares dos Santos.
The stage lights were out save for one spotlight in the center. Two figures huddled under the spotlight next to the keyboard. All the sudden, van den Broek walked out to the centerstage, and the audience erupted in applause.
Yellow Days' performance can only be categorized in one way: cool. The polychromatic lights and plucky guitar riffs created a sense of nostalgia for a time that never existed. van den Broek alternated between his three guitars and playing on his keyboard. The lights lit behind van den Broek creating a silhouette around his distinctive figure.
Even more memorable than his Prince Zuko-esque rattail was van den Broek's vocal performance. His face scrunched in a combination of effort and pain, van den Broek layers his yearning throaty vocals over the undulating melodies of his songs. Emotion pours out of him as his voice betrays all of his passion and vulnerabilities. van den Broek does not make singing look easy, and that adds an air of authenticity to the subjects he sings about.
In a goofy act of an overly confident performer, van den Broek teased with the audience's reverence of him. He would occasionally steal sneaky side glances at the audience between songs and would sometimes offer a small wave in their direction. van den Broek maintained this teasing dialogue with the audience. Towards the end of the show, he slyly remarked, "Now's the song you've all been waiting for." The audience swayed in unison and sang along to the lyrics, many holding their friends and loved ones close.
In the middle of his act, Ric Wilson made a reappearance. Wilson and van den Broek appeared to be a star-crossed combination as the two complimented each other perfectly. Once again, Wilson took over the entire stage with his endearing dancing, which counterbalanced a more stationary van den Broek. The two of them performed some of their collaborated pieces, including the song Love Bloom. Because van den Broek's sound often evokes the soul of the 1970's, Wilson funk influences lent a contemporary feel that seems only appropriate for van den Broek's musical evolution.
Alas, all good things must come to an end. Leaving the concert was a step down from the elation of the show back to reality. As the audience walked out of Paradise Rock Club and into the frigid downpour of rain outside, we can just be thankful for a great couple of hours.
// Katia Soares dos Santos '25 is a DJ on the Jazz Spectrum and a guest writer for The Darker Side.