Students Demand Harvard Professor John L. Comaroff's Resignation and Harvard Administration to Take Action on Campus Culture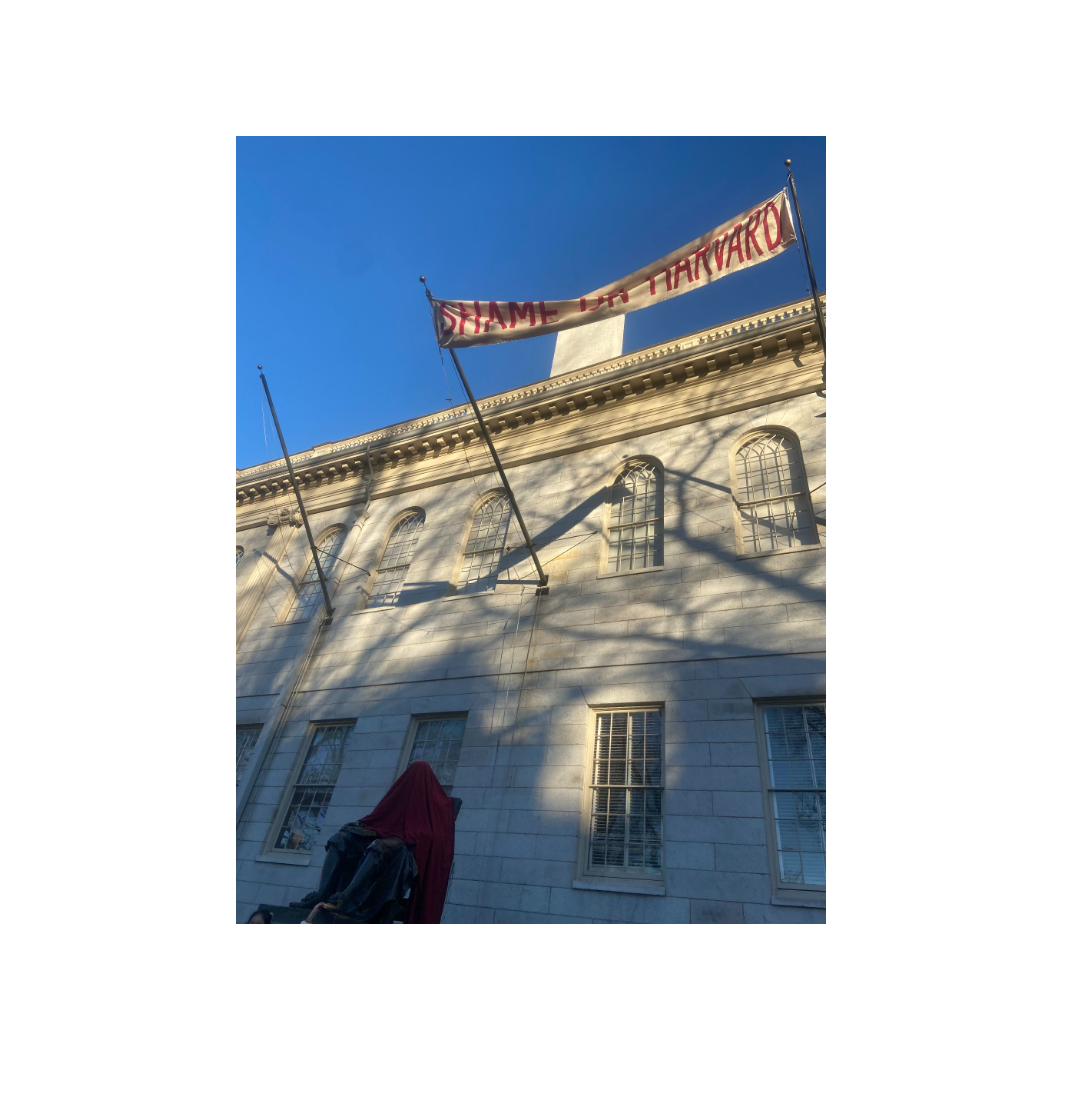 Listen
Harvard students and affiliates gathered in the Science Center Plaza at 2 p.m. on Friday, February 10, to protest against Harvard Anthropology and African and African American Studies Professor John L. Comaroff, who is teaching this semester despite Harvard acknowledging that he violated its sexual harassment and professional conduct policies.
Our WHRB News reporter Jai Bahri was at Friday's protest. Starting from the Science Center, the protesters marched to University Hall––which has the offices for the Dean of Harvard Faculty of Arts and Sciences. The John Harvard Statue in front of University Hall was covered with a crimson-colored fabric. Organizers raised a banner on University Hall's flagpole––which often carries a large American flag––that says "SHAME ON HARVARD."
(Photo Taken by Jai Bahri '25)
Three female graduate students in the Anthropology Department filed complaints with Harvard's Title IX office on, according to a report from The Harvard Crimson," unwanted touching, verbal sexual harassment, and professional retaliation by Comaroff." Last year on February 9, the students filed a lawsuit against Harvard alleging Harvard administration mishandling Title IX complaints. The lawsuit states that Harvard knew of Comaroff's past record, with Harvard being alerted to Comaroff's behavior of harassment and retaliation when he taught at the University of Chicago. Nevertheless, Harvard hired Comaroff in 2012.
Organized by Our Harvard Can Do Better and the Harvard Graduate Students Union-United Auto Workers' Feminist Working Group, those who attended Friday's protest called for systemic change within Harvard on how the University responds to experiences of sexual harassment and assault among its affiliates.
At the beginning of this Spring Semester, a walkout was held on the first day of Comaroff's class "African and African-American Studies 172X: "Colonialism and its Postcolonial/Decolonial Afterlives: Critical Readings."
For Our Harvard Can Do Better and the Harvard Graduate Students Union, there will be more demonstrations organized unless Harvard changes its procedures of handling Title IX complaints and hiring faculty. For them, it's more than a change of professors, of firing Comaroff, the University needs to change and do better.
// Reported by Jai Bahri '25. Voiceover and studio engineering by Jeromel Dela Rosa Lara '23. Tune in to Harvard Radio News on Sundays at 12 p.m. ET to experience the stories going on in Harvard and beyond.
Follow Harvard Radio News on Instagram @whrbnews.