Sturgill Simpson Revives Classic Rock on his Good Look'n Tour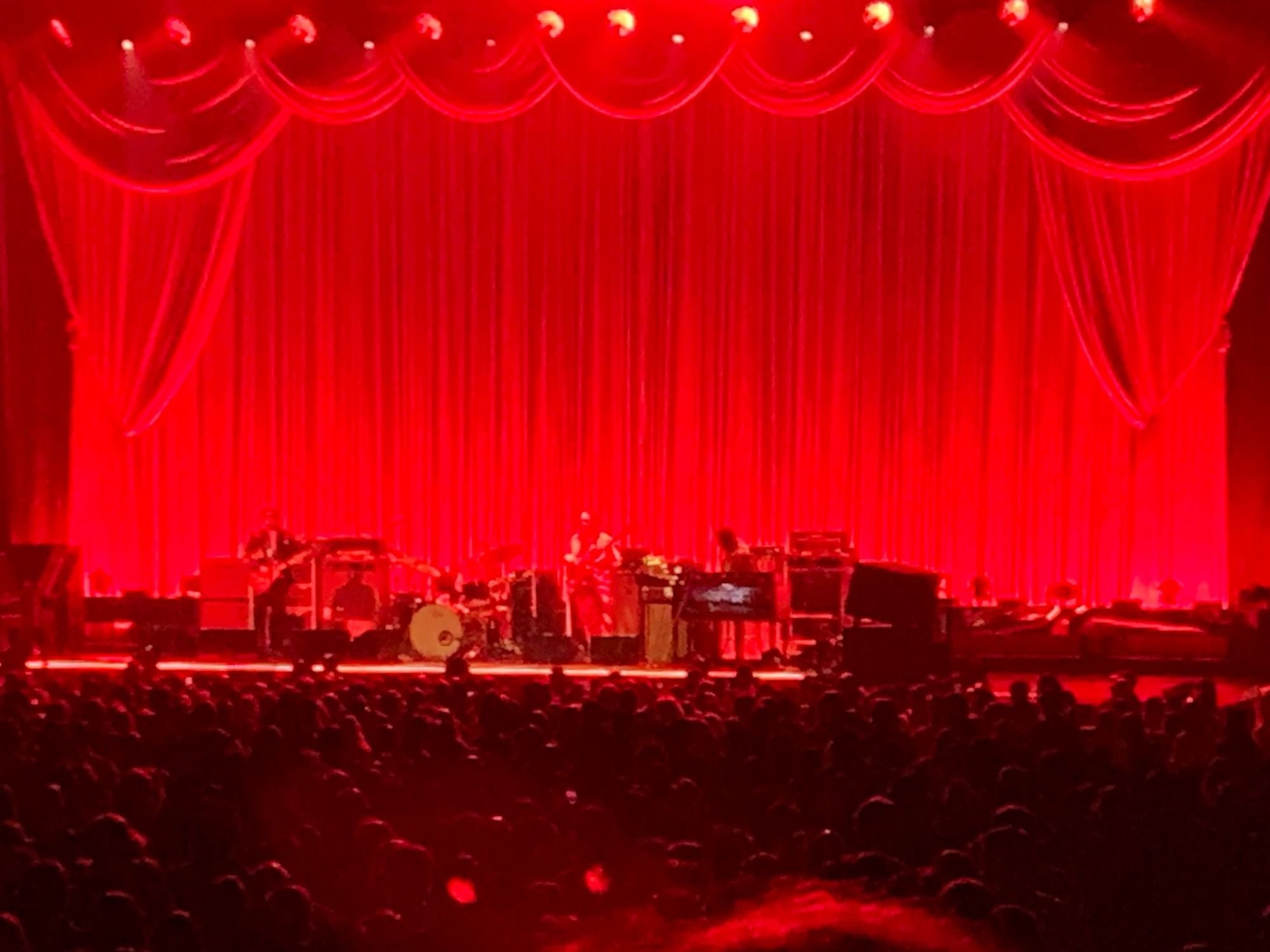 Listen
As I was being scanned into Birmingham, Alabama's Legacy Arena at the BJCC on February 21, I could already hear Tyler Childers's Appalachian party anthem "I Swear (To God)" floating through the rafters. The arena was packed with flannel shirt-wearing country music lovers listening intently to the down-home jam session happening on the stage. Front-and-center was Tyler Childers himself donning a baseball cap and a long sleeve t-shirt. Surrounding him were the Food Stamps, playing the type of music that must stream through the windows of heaven's honky tonk bars. The electric part of his set consisted almost entirely of music from his Purgatory and Country Squire albums. After playing a stirring rendition of The Charlie Daniels Band's song "Trudy," the Food Stamps exited the stage leaving Tyler alone with an acoustic guitar.
The final three songs in Childers's set were performed solo. Childers began the triplet with classic "Nose on the Grindstone." Following that was "Lady May," a love song Childers wrote for his wife, singer-songwriter Senora May. Childers topped off his performance with the heart-wrenching "Follow You to Virgie." After the Kentucky Bard finished his set, he took a bow and exited stage left, leaving the audience awestruck. Childers has the type of voice that would have still been famous in a time long before the advent of things like the internet and electric instruments. His music comes directly from the soul and touches the hearts of listeners in a primeval sort of way. Childers just recently finished a solo tour of his new album Country Squire, so having him as an opener was certainly a treat for myself and my fellow concertgoers. His performance provided a wonderful start to what would soon become an unforgettable night.
After about a twenty-minute intermission, Sturgill Simpson and his band took the stage for their first performance of the Good Look'n Tour. Each man wore a solid-colored suit with a floral motif. Sturgill's suit was black (to match his sunglasses), and his band donned red. At the back of the stage hung a grand red curtain, illuminated by bright lights. On the floor were four bright spotlights, emanating a radiance reminiscent of the headlights on the cover of his new Sound and Fury album.
The band started out with a rocking rendition of "Ronin" the first song on Sound and Fury. From the start, they electrified the atmosphere. Every aspect of the performance was immaculate. A sharp detour from his pure country past, the performance of hearkened back to the hair-band era of the late-80's. It was pure rock-n-roll the way it was meant to be played. Sturgill was on guitar, riffing and having the most fun I have ever seen a country musician have on stage. Bassist Chuck Bartels was gloriously grooving. Drummer Miles Miller was nearly blowing the roof open. And keyboardist Bobby Emmett had me convinced that the keyboard was made to be a rock instrument. My personal favorite songs in this set were the operatic "All Said and Done" and the cosmic "Mercury In Retrograde."
Some concertgoers were beginning to get frustrated with this rock set. Simpson did, after all make his name playing what most people would call outlaw country music. One woman to the left of me even shouted, "Come on Sturgill, play something good!" About ten songs in, Sturgill gave the people what they wanted and played some old favorites. He played a couple songs from each of his previous albums including "Breakers Roar" and "Brace For Impact (Live a Little)" off his Grammy Award winning A Sailor's Guide to Earth, "It Ain't All Flowers" and "Turtles All the Way Down" his Metamodern Sounds in Country Music, and even "Some Days" from his 2013 album Hightop Mountain.
At some point in his set, Simpson addressed rumors that the Good Look'n Tour would be his last saying, "Y'all don't believe that bull-. It's called marketing mother-," a statement to which the audience responded with raucous cheer. It was plain to anyone at that show that Sturgill Simpson is first and foremost an artist. He loves his music and that is precisely why he plays it so well. Arguably, one of the reasons he has been so successful is because he refuses to cater to the opinions of mainstream country record executives, and he isn't shy about playing the music he wants to play no matter what anyone thinks (a message stated clearly in his song "Make Art Not Friends"). At one point in the concert, he was turned around, facing the amplifiers behind him, playing his guitar, and absorbing the music emanating from the speakers. In that moment something became clear: Sturgill Simpson has always been playing music for himself, we're just lucky enough to be in the proximity.
// Cade Williams '23 is a DJ for The Blues Hangover, on air 5 a.m. - 9 a.m. on Saturdays and 7 a.m. - 11 a.m. on Sundays EST