Summer Highlights: Taiwanese Waves at Central Park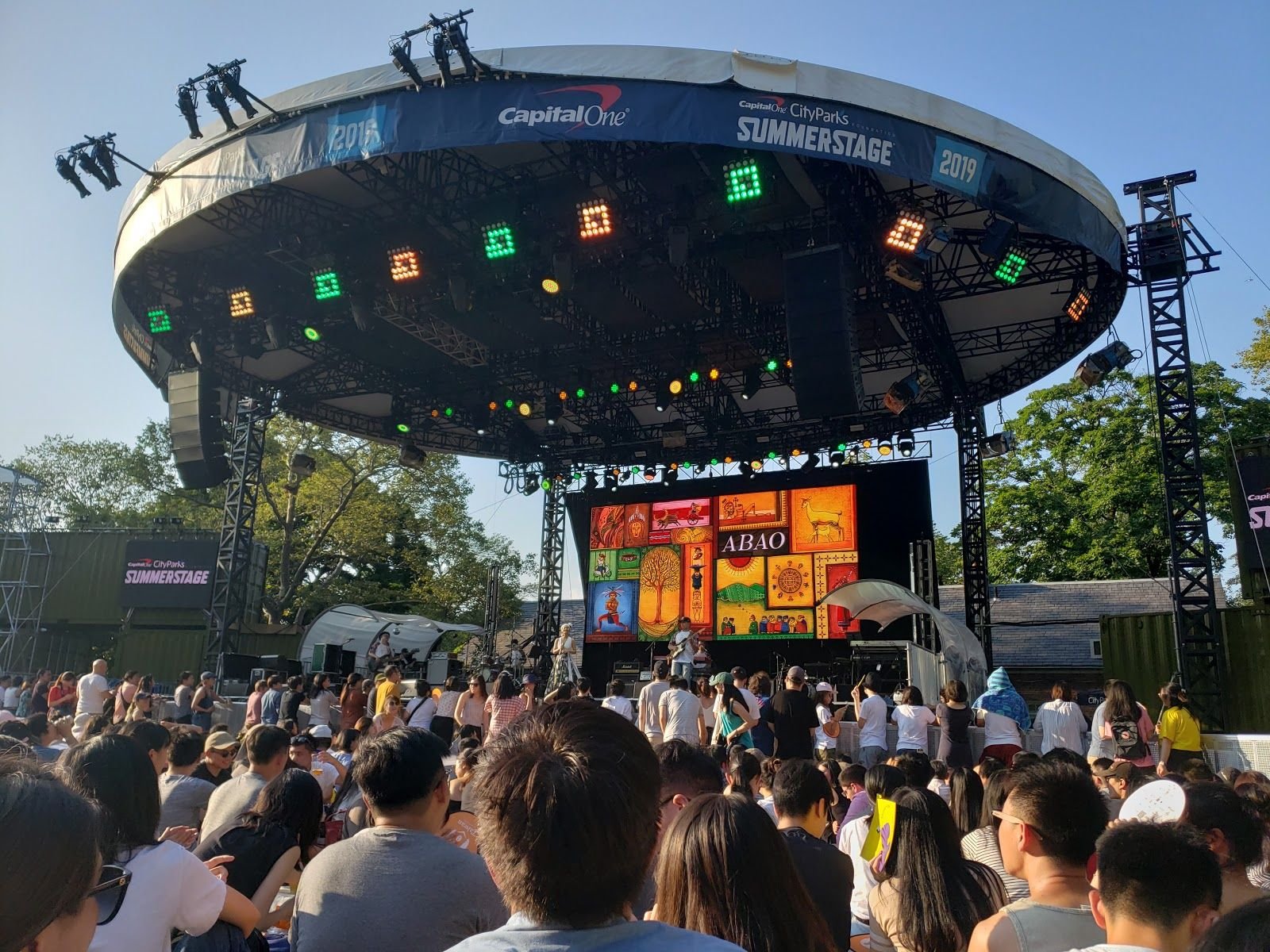 My friends in Boston know that there's only two things I've been talking about the past two months: how tired I am, and Taiwanese indie music. The former because I've been working as a teacher/counselor at a summer camp, and the latter because I spent three weeks at the beginning of the summer in Taiwan doing a photography project on indie music in Kaohsiung and Taipei. So when Taiwanese Waves, a free concert at SummerStage in New York's Central Park rolled around last week, I hopped on a bus to New York, equipped with a phone camera and just a hint of sleep deprivation.
In the summer afternoon glow, 阿爆 (A Bao) was bringing her vigorous, funky energy to the stage as I arrived fresh off the bus. With the earthy colors and patterns of her album vavayan. 女人 adorning the stage, her performance was both an expression of Taiwanese indigeneity (A Bao is of Paiwan descent) and pride. Her music, a melodious melding of Mandarin ballads, soulful Paiwan bops, and indigenous percussion, matched the late afternoon mood of the crowd, which was mostly sitting and soaking in the tunes.
As the sun dipped below the trees, Mandopop veteran 萬芳 (One-Fang) turned back time and lifted the crowd to its feet with her classic ballads. With English and Chinese lyrics replacing the stage's backdrop, One-Fang led the crowd of 4600 in a group karaoke session; even though I didn't know most of her songs, I still participated and felt a strange sense of home. Her performance established a connection across time and space, uniting the crowd of mostly Sino diasporic people.
Up next was rising star 9m88, also known as "Baba" per the Mandarin pronunciation of her stage name. Her set was what I came down for; having been introduced to her sepia-tinged hip hop collaboration with Leo 王 while in Taiwan, I knew I had to see her live. Riding the wave of 80s nostalgia in Taiwan and abroad, 9m88's music combines her virtuoistic voice with city pop synths and drum machines. Her quirky presence on the stage matched her oddball music videos, and was the perfect accompaniment to the fading light. Having just released her debut album Beyond Mediocrity last week, 9m88 is sure to be on people's radar worldwide, and her stellar performance only confirmed that sentiment for me.
To close out the night, indie rockers Tizzy Bac took the stage. Formed in 1999, the band is part of an early wave of indie rock in Taiwan that includes other bands like Fire Ex and KoOK. Their piano-led melodies ushered in the end of the day like an ending theme to a Taiwanese drama. The booming drums on "我所深愛的人們" shook through the crowd with every beat, while the sweet, heart-melting melody of "我又再度依戀上昨天" nearly brought me to my knees at the encore.
With work on Monday and a whole day of curriculum to prepare for, I was originally going to head back early Sunday morning. Instead, after some coaxing from Mia (the organizer of the event, who helped facilitate my short interview with Elephant Gym at SXSW this year), I stayed for Sunday night's afterparty, which featured the same artists at Mercury Lounge in a more intimate setting. The crowd was much more responsive, representing the die-hard music lovers who also went on Saturday; I almost felt as if I were back in Taiwan, soaking in the love and energy pouring from audience to artist and vice versa. The few visibly American attendees looked lost, but were still able to enjoy the music all the same.
In between sets, DJ and producer Layton Wu spun a wonderful mix of city pop and hip hop, keeping the crowd lively. Part of why I stayed also has to do with him; he's good friends with and came at the recommendation of the drummer of Valley Hi!, one of the bands I got to know in Taiwan this summer. Although I was a bit disappointed that he didn't have a dedicated set, I was still able to get a taste of his DJing and even got tacos with him and his buddies afterward.
Dragging my feet onto the 2:30am bus back to Boston, half regretting my decisions and half in awe at the magical 48 hours I'd spent in New York, I felt a deep desire to return to Taiwan. There's something about listening to music with people who look like you, performed by people who look like you, and I think that's the beauty of what Taiwanese Waves has brought to the Sino diaspora in New York. Somehow, the energy and love of the Taiwanese music scene had been imported to New York for the weekend, reigniting a connection that transcended distance.
James Gui '20 is a DJ for the Record Hospital.