Sun, Sneakers, and Solange: Camp Flog Gnaw Day 1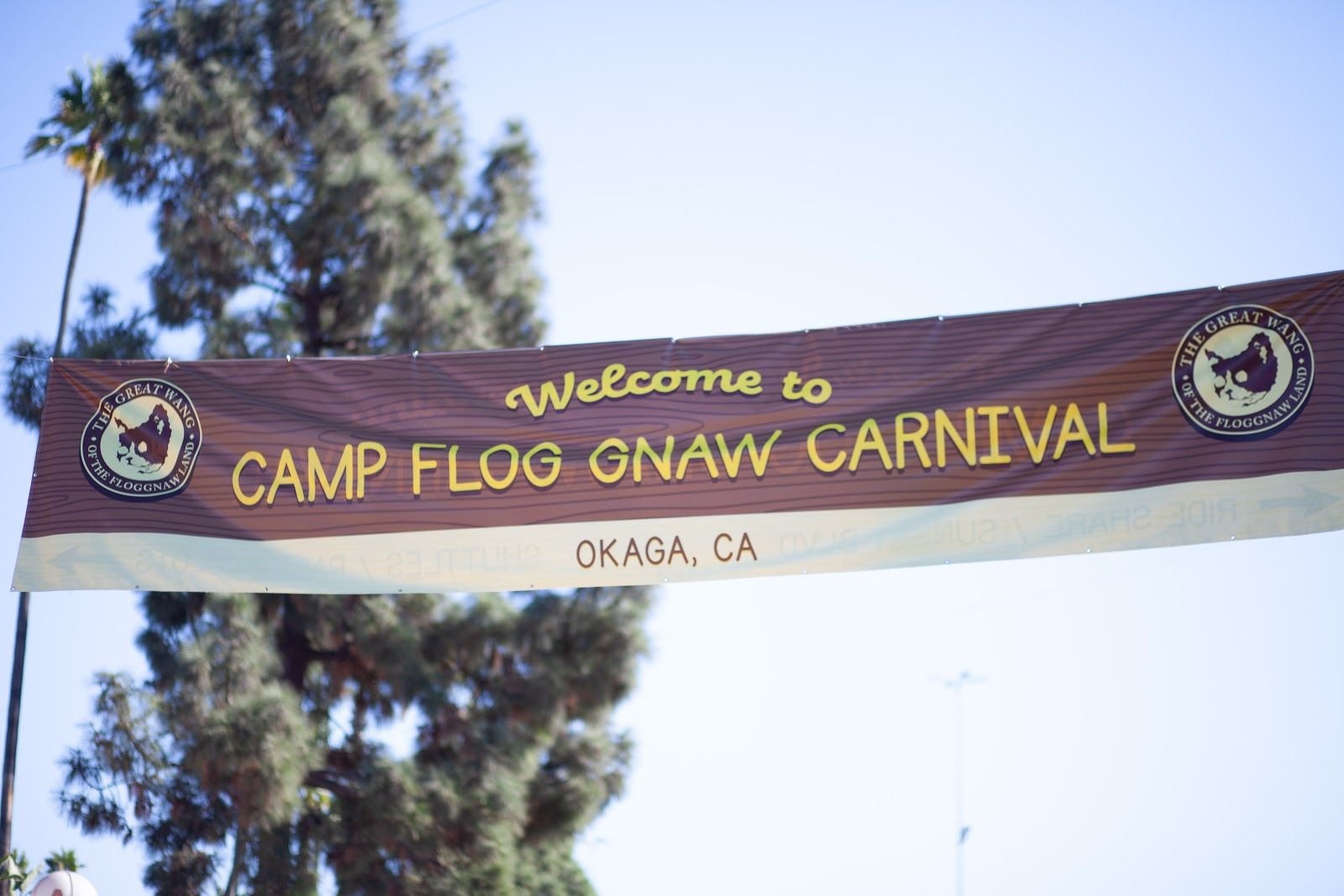 For its 8th year in a row, Camp Flog Gnaw brought incredible talent from across the U.S. (and Taiwan!) to Los Angeles. Check out WHRB's recap of Day 1 below!
Elephant Gym
Opening up the festivities on the Flog Stage this year, Elephant Gym were beaming and their positive energy infectious. Vocalizing the thoughts many Odd Future fans might have been wondering ("We don't know why we're here!"), KT and crew shredded, grooved, and blew the performance out of the water. They certainly demonstrated why they were at Flog Gnaw--to rock some 15-17 year old Odd Future fans' socks off. KT was ready with a few jokes, too: "What's the most important part of an instrumental rock band? The alcohol!" From the smooth, jazzy "Underwater" to the adrenaline-pumping breakdown of "Finger", Elephant Gym controlled the crowd's movement like a trio of puppeteers.
Juto
Next up on Flog Stage was Juto, whose set I stayed for in order to secure a good spot for Slowthai, who was right after. Walking onto the stage with a big smile, Juto performed his glistening brand of R&B--think "Sunday Candy", but turn up the sincerity a few notches. His music checked all the boxes: danceable, trap-influenced tracks mixed with slower, smoother ballads.
Slowthai
Standing next to a group of teens bragging about how slowthai once offered them weed, I caught slowthai from the middle of the action. With the crowd moshing at almost every one of his songs, it took much self-control (and desire for the safety of my camera equipment) to refrain from joining in on the hype. During "Doorman", Slowthai orchestrated the largest whirlpool of teens that I'd seen in my life, telling the crowd to open up the pit and run counterclockwise once Mura Masa's beat started. The show was a slowthai special, complete with him stripping throughout the set and cursing out Boris Johnson (admittedly at the coaxing of the crowd). His rapping, of course, was great as well.
Thundercat
Thundercat took the Flog Stage as the sun was fizzling out. His orange dreads flitting about, Thundercat showed off his virtuoistic bass playing, moving his fingers faster than the high school teens running to Juice WRLD after his set. Swaying and meowing to "A Fan's Mail", his absolutely adorable song dedicated to his cat Tron, the crowd collectively turned into cat people for a few minutes. Then, bringing out yacht-rock legend Michael Mcdonald and the new face of jazz, Kamasi Washington, Thundercat closed out his set on an epic note.
Juice WRLD
If liking Juice WRLD is wrong… actually, we'll just leave it at that: liking Juice WRLD is objectively wrong. However, there's also something incredibly transfixing about his music and especially his live performance. Whether it's the incredibly cringeworthy lines from his hype man, shouting things like "Make some noise if you've ever been stuck in a maze!" before Juice's song "Maze", or the overly-sincere, melodramatic rapping from Juice himself, I couldn't help but look on in amazement. Juice channeled the same energy as his pop punk idols Fall Out Boy, yet with even less subtlety. With completely over-the-top visuals--computer-generated twerking robots and huge, metallic cartoon heartbreak symbols--Juice had the crowd at his mercy.
Daniel Caesar
Providing much-needed contrast from Juice's set, Daniel Caesar crooned away the night on the Flog Stage. The temperature, rapidly turning cool in the night, combined with his passionate, ethereal vocals, was the perfect excuse for the couples in the crowd to get intimate. No such luck for this reporter, but the lush melodies of "Best Part" were incredible all the same. Closing out his set to an exodus of Tyler fans--his set was right after--Daniel Caesar finished on a strong note with "Get You / Japanese Denim".
Tyler, the Creator
There are no words. If forced to describe my experience during Tyler's set at Camp Flog Gnaw 2019, I can only grasp at cliches. Clad in his signature Igor wig and suit, Tyler, the Creator caused literally thousands of zoomers and millennials to sprint over to the Camp stage to catch his set--and for good reason. His magnetic, oddball charisma was in full force. Sandwiching his earlier music with the crowd-favorite songs from "Igor", he had something for everyone. He also had jets of fire, mechanical platforms, and psychedelic bursts of light. At one point, he sat down at a piano, teasing out a beautiful solo that slowly turned into a mind-bogglingly good rendition of "Earfquake" before breaking out into the actual song. Tyler is a performer, and showed it.
Solange
Taking down the energy a notch for the headliner performance at Camp Stage, Solange provided the perfect closer to a day filled with hype. With a band at her side and a lineup of talented backup dancers, Solange showed off her vocal chops with fierce delivery. From the groovy harmonies of "Stay Flo" to the atmospheric instrumentation of "Cranes in the Sky", the night was one for introspection.