An Interview With Sweet Trip: Origins and The Return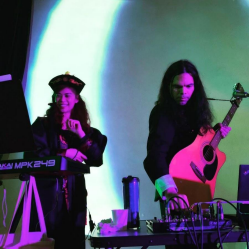 // Image courtesy of R__ob Uytingco.
Sweet Trip, currently consisting of Roberto Burgos and Valerie Cooper, is a dream-pop/shoegaze/electronica group formed in 1997, San Francisco. They are most notably known for their glitchy electronica album, Velocity:Design:Comfort, and their dream-pop album You Will Never Know Why. With these projects and few earlier works under their belt, Sweet Trip gained an early cult following that has been growing exponentially, even with their latest full release dating back to 2009 (You Will Never Know Why).
In 2021, Sweet Trip is making a long-awaited return after a 12-year hiatus with new singles and an album, A Tiny House, In Secret Speeches, Polar Equals. The new music, along with reissues of previous albums, are available for purchase over at Darla Records!
Along with the great pleasure of allowing WHRB to chat with them, Sweet Trip provided a bountiful amount of information regarding the evolution that the group has undergone since its creation in 1995. More specifically, this interview also focuses on the recent end of Sweet Trip's 12-year hiatus and how it has affected the duo. Watch the interview in its entirety with time-stamped questions below, and read on to learn more about Sweet Trip's story.
Like many musical artists, Sweet Trip was eagerly looking forward to live performances in 2020, especially after their return performance in January of that year. Luckily, the shift in lifestyle presented by the COVID-19 pandemic has not been a negative one for Sweet Trip in regards to writing, recording, and production. In fact, as Roby explains, "It feels more comfortable, it's also more intimate and it caters very well to our personalities. We're both introverts, we're very self-conscious of what we do and what we don't do, it's nice to be able to just record music and make music together by just ourselves because there are no prying eyes, there's no judgment." With so many barriers cut down, allowing for increased personal collaborative work, the new record appears to be very reflective of this insight and the duo as a whole. After all, it's Roby's favorite work of theirs yet!
In Sweet Trip's earlier days, the lineup consisted of Roby, Valerie, and Viet Le. It was Valerie who played a leading role in music discovery. Roby said, "Valerie was always very instrumental in showing me and Viet newer bands that we were not exposed to. Valerie's record collection, music, and knowledge of all this cool underground stuff was a huge influence on us." As for Viet, Roby describes his role in the band as a "spiritual leader" who guided the group's path and was vocal in expressing what worked and what did not work for them. Naturally, Viet was the businessman in the trio, "He'd whip us into shape as far as being more professional when we play, he was our main contact with bookings and networking," Valy explained. So it seems that while Roby and Valerie were being self-proclaimed introverts, Viet was the "confident and articulate" extrovert that upscaled the band's presence, eventually landing them a record deal.
For Valerie, it was her parents who introduced her to various genres of music, including bossa nova. When she started playing classical guitar, she seemed to have taken influence from her parents. However, the shoegaze genre later became a larger influence of her own that eventually brought her to buy an electric guitar. And of course, what's shoegaze without guitar pedals? This marked the beginning of Valerie's pedal collection as well as her love for shoegaze. Interestingly enough, it was not My Bloody Valentine, one of the most popular shoegaze bands, that influenced her to explore the sound. Instead, it was a much more underground act titled MOOSE and elements of post-punk music that rubbed off on her. For Roby, shoegaze influences were introduced to him in high school. He explained, ", There was this other classmate that had a class right before me in the same room and also at the same desk. She sat in it during the period before mine. She was also someone that I was curious about because she looked really goth and cool. I found out that she was carving the name of all these bands on the desk, so she had like Jesus and Mary Chain, My Bloody Valentine, and a bunch of other stuff. From those bands, I knew who My Bloody Valentine was, so I immediately thought - 'okay all of these other bands must be like My Bloody Valentine'." Through this interesting encounter driven by curiosity, Roby discovered Slowdive and eventually bought a CD at Tower Records after school.
Beyond shoegaze, Sweet Trip's sound is also based around the duos' catholic background. Roby elaborates, "We were both raised catholic so we have a really strong catholic background so we know like mass hymns and things like that. The construct of a mass hymn sort of bleeds into some of the music that we do. I was actually remembering a conversation that we were having a couple of days ago because I was watching a documentary on youtube about Alice in Chains. While I was watching it I was always remembering an article about Alice in Chains and how the way that the two singers worked their melodies was really based on hymns and pentatonic scales and sort of like a modulation of harmonies. I remember being a kid and reading that interview and being like 'Oh wow, that's really cool!' I do know catholic hymns, I kind of feel like I know how they work. So that has been an influence in the music in one way or another."
In some respects, A Tiny House, In Secret Speeches, Polar Equals, appears to be a culmination of all previous works, but, "it also has its own voice," as Roby notes. With the new record out now, fans of Sweet Trip can find further comfort in knowing that both Roby and Valerie hope to continue making music together. Moreover, they hope to remain a duo act in most recording aspects due to their intimateness and bond. As for live shows, the pair is very welcoming of the possible company of other musicians. In the meantime, you can visit Sweet Trip's Linktree for more listening and/or purchasing content.
// Gilberto Sepulveda Rabago '24 is a staff writer for Record Hospital.