SXSW 2017 Preview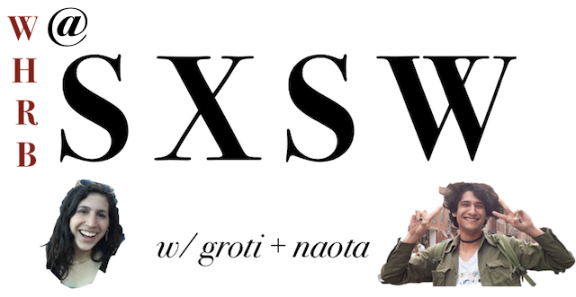 Luke and I have been poking around everywhere, lifting all the rocks trying to find the juiciest worms. Here's the latest batch of artists we've whipped up for your sonic consumption!
Look out for (in alpha order)...
AMI DANG
Bollywave. Music from everywhere and nowhere. Genre-smoothie at its finest.
Listen to: Sublimate
ARI LENNOX
Ear-snagging smooth n sexy Bedroom RnB. Step-stopping voice.
Listen to: Backseat
CAPYAC
Self-described "Balloonwave" from warm Austin, Texas Makes Luke aggressively smile and head-bounce.
Listen to: Talk About
CHAIN OF FLOWERS
Cardiff post-punks. Distorted guitar swells + omnipresent bass mediated by emotive-distant vocals.
Listen to: Death's got a Hold On Me.
HER'S
Wavey dream pop and a distinctive mahogany voice. Highly repeat-worthy.
Listen to: What Once Was
JJUUJJUU
"Live Vibes + Sweet Kraut" from LA. A sky of stratus clouds and dialogic vibrations.
Listen to: A Forming
KWEKU COLLINS
From Chicago's TDS music/art/skateboarding collective. 19-yr-old rapper/producer. Smooooth.
Listen to: Stupid Rose
LET'S EAT GRANDMA
Xylophone, recorder, crackin' vocal interplay! These best friends make one heck of a group.
Listen to: Deep Six Textbook
OUM SHATT
Turkish/Arabic-influenced Psych rock. Chord progressions that make you go "ooooo."
Listen to: Power to the Women of the Morning Shift - Arabic Version
레드벨벳 (RED VELVET)
Eclectic-infectious sassy all female 5-piece K-Pop.
Listen to: Rookie
XXX
Distorted classical choir-samples; Kim-Ximya + FRNK. Featured on Maison Kitsuné Hot Stream.
Listen to: Flight Attendant
Stay 2ned...