A Tender Conversation: Andrew Bird, Iron & Wine + Calexico, and Natalie Prass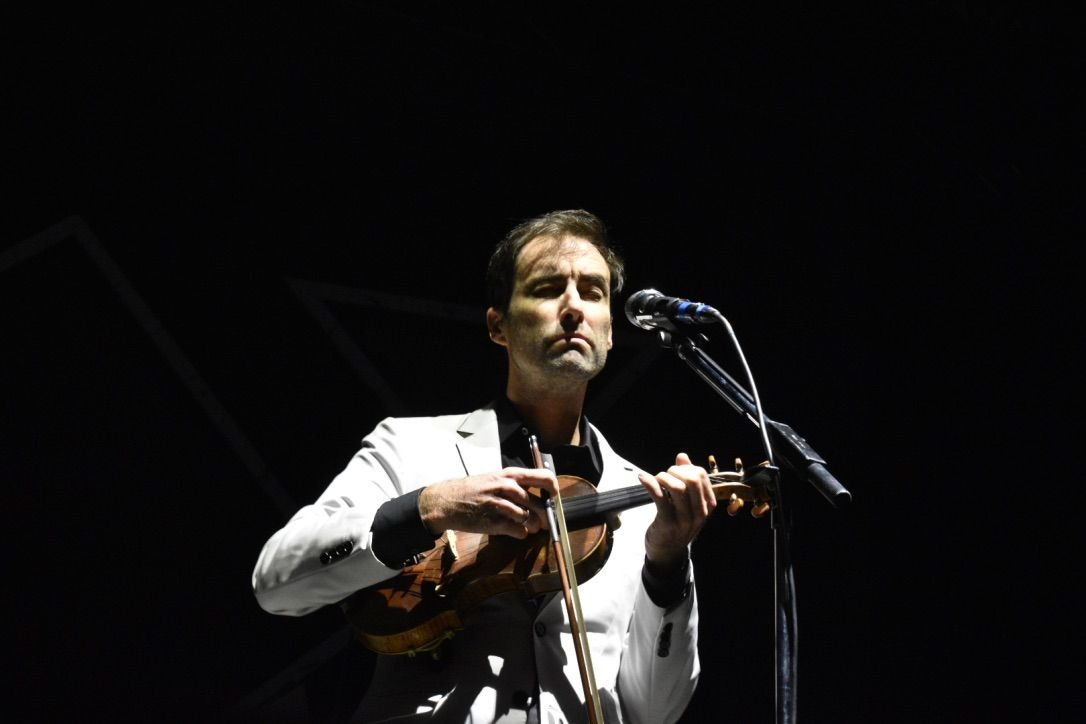 For most of the winter of 2015-2016, Sam Beam's (the singer-songwriter behind Iron & Wine_)_ soft but dynamic and layered voice narrated what felt like a particularly tumultuous period: a too-amicable breakup with my then-boyfriend of two years, and a ton of homework. At one point I had accidentally memorized half the lyrics to Our Endless Numbered Days. Still, by the time the sun came out in April, my Europop playlist was dominating my Spotify's "on heavy rotation." But with fall now fast approaching, I miss my old musical haunts, and last night I convinced two friends to schlep to the Seaport District to see Natalie Prass, Iron & Wine, Calexico, and Andrew Bird at the Rockland Trust Bank Pavilion.
The four indie-folk-rock acts packed the outdoor amphitheater with swaths of linen-wearing mid-twenty to mid-thirty-year-olds. First, Natalie Prass took the stage. Her familiar soft but clear voice was even more beautiful in person. She and a backup singer sat across from each other, gazing intently at one another. In the best way possible, the two women's duets felt more like two friends sharing their music than a choreographed performance.
After Prass' set, Iron & Wine and Calexico, fresh off their summer release of Years to Burn, went on. Years to Burn marked the two groups' first collaborative recording since their 2005 album In The Reins and heavily showcased their respective South Carolinian and Arizonan roots. During the concert, the two groups performed together. Particularly moving was Beam's genuine, throaty vocals on the track "Father Mountain." The two groups expertly mixed soft, calming folk music with high energy fun. At one point during the concert, he called out "are you ready to Polka?" and Calexico launched into a bouncy accordion solo. The gesture not only highlighted Calexico's musical prowess and wide skill range but also paid homage to the influence of different folk genres and cultures on the music of the two groups on stage. Though most of the crowd was seated, those standing along the edges bopped up and down.
By the time Andrew Bird stepped on stage, his white jacket stood out against the dark night sky. He opened with "Sisyphus," one of the most popular tracks on his recent album My Finest Work Yet. Given the album's mythologic allusions (two of it's most popular songs are "Sisyphus" and "Olympians"), the amphitheater setting of the concert felt incredibly appropriate. As soon as he started singing, the crowd looked on in awe. The imagery and story in his lyrics almost took us to another place (the opening lines of "Sisyphus" are Sisyphus peered into the mist/A stone's throw from the precipice…). Still, Bird's intense singing style (he punctuated each "s" sound--rooting his audience in the performance) along with the melodic singing from Madison Cunningham maintained engagement and his dynamic whistling never ceased to amaze. Bird played fiddle for many songs, sometimes playing fast, dramatic, catchy tunes and other times playing steady and emotional solos. Eventually, he picked up his guitar for "Cracking Codes," and jammed out into the night.
LiveNation billed Bird as the headliner, and he delivered a performance worthy of the title, but this was not a normal concert of two opening performances and headliner. Prass and her back-up singer's friendly intimacy, Iron & Wine and Calexico's confident partnership, and Bird's masterful lyrics manifested an equally talented show. The performance's references to different folk cultures and displays of female and male closeness and shared artistry created not only a show but a tender conversation between artists.
---
Courtney DeLong directs WHRB News and is a DJ for the Record Hospital. Tune in to RH on weekday nights from 10pm to 5am.
Photo Credits to Jess Eng.