Thundercat brings the Jazz to the House of Blues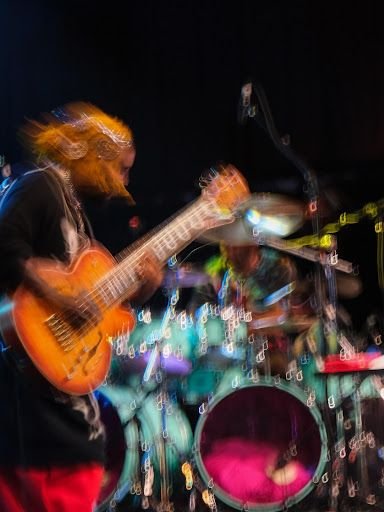 // Image courtesy of Griffin Andres
Thundercat wowed a captive audience at the House of Blues on November 7th on the first of two nights in Boston on the It Is What It Is Tour, supported by Channel Tres.
// Image courtesy of Griffin Andres
The Compton, CA native opened the show with a rousing set of bass-laden house punctuated by trips with the microphone to the front of the stage to further rile the excited crowd. Weaving his roots of LA hiphop with a decidedly bouncy, synth-laden dance style, Channel Tres had the audience moving with vigor to hits like "Topdown_."_
Thundercat took the stage shortly after, requiring assistance to safely loft his behemoth of a six-string bass over his head. Wearing a black tee, red pants and chucks, all comically oversized, he immediately commanded attention even before a string had been tickled.
// Image courtesy of Griffin Andres
Flanked on either side by keyboardist Dennis Haam drummer Justin Brown, the trio jumped into action with the opening three tracks of It Is What It Is, culminating in a raucous performance of "I Love Louis Cole," an homage to Thundercat's fellow LA musical auteur. He followed that up with a cover of Cole's bank Knower's song "Overtime," featuring swings from more melodic vocal sections to all out solo mayhem.
// Image courtesy of Griffin Andres
Thundercat also paid homage to his fellow collaborator Flying Lotus, performing their collaboration "Black Gold," made for the new Yasuke anime.
While the performance was full of joyous moments, it also seriously reckoned with loss and memorial in the performance of "A Message for Austin," written after the passing of piano player and fellow LA Jazz cat Austin Peralta. Thundercat also expressed his feelings of loss at the passing of Mac Miller, DMX and MF DOOM, telling the audience, "If you love somebody, tell them".
In memorial, he also performed a medley including a cover of Chick Corea Elektric Band's "Got A Match?," nodding to the jazz great in his keytar era. In the leadup to the cover, Thundercat cited some of his jazz influences, naming Chick, Jaco Pastorious, Herbie Hancock, Wayne Shorter, Elvin Jones, Joe Henderson, Stanley Clarke, George Duke, and Frank Zappa, saying "that's where we come from".
// Image courtesy of Griffin Andres
While this somber moment was resonant, the dancing shortly resumed, with the crowd getting down to the infectious bop of "Them Changes," although this acknowledgement of loss made the lyrical darkness of the song that much more palpable.
In all, Thundercat provided those lucky enough to witness him an exercise in humor, humility, candor, stank faces and all out shredding. It was almost impossible to cease head bobbing, even long after the house lights came on.
// Image courtesy of Griffin Andres
_// Griffin Andres is a photographer, DJ, and Staff Writer for The Darker Side and the Jazz Spectrum.
_