A Tribute to WHRB's David Elliott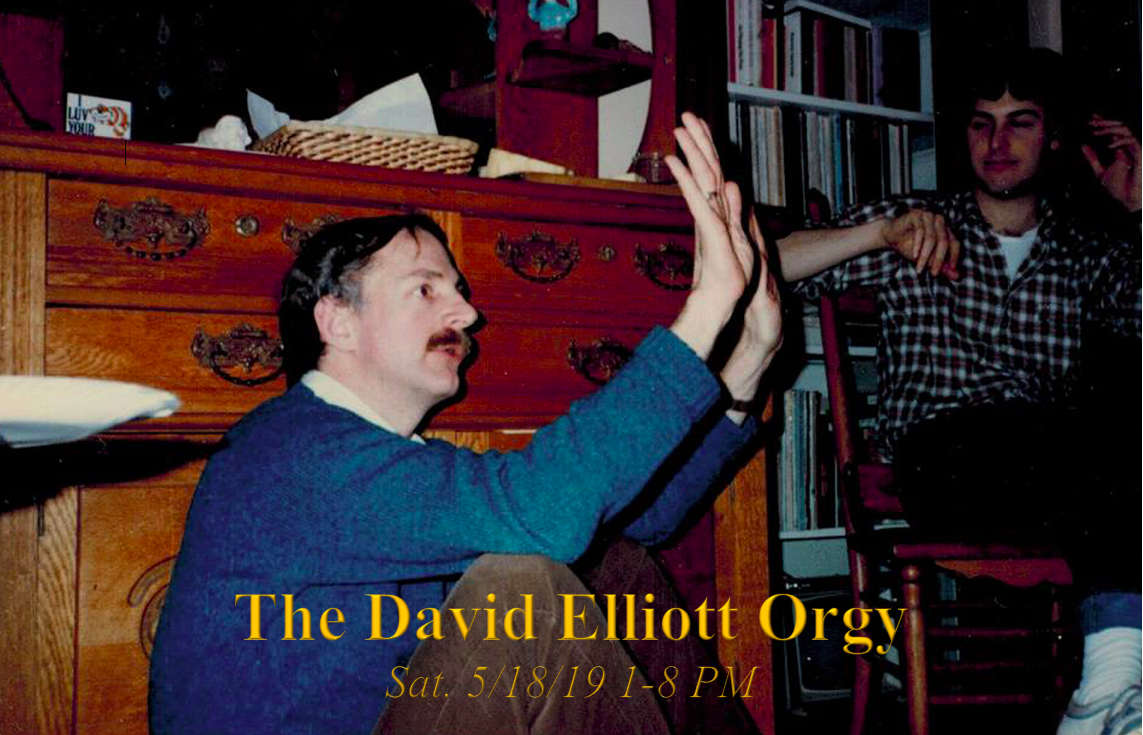 Listen
David Elliott has been the leader of Harvard Radio (WHRB 95.3 FM) for decades and throughout his time at the station he has inspired students to be more than they could imagine of themselves. Of course, David has been a phenomenal DJ, interviewer, trustee, advisor, salesman, and so much more but in my personal opinion, David's biggest contribution to WHRB has been his unshakable faith in the incredible potential of the station's undergraduate DJs.
Few adults in my life have ever demanded more from me than David has. David's insistence that I could be better has been the catalyst to me becoming the man I am today and actualizing the potential that he has seen in me since Freshman year. When I became President of WHRB my Junior year, I was immediately faced with the most challenging decision of my life and so obviously, I immediately went to David for his advice. To my surprise, he did not provide me with a solution but instead, David told me that this was exactly the issue the station had elected me to solve and that, despite my uncertainty, he was confident with the station under my leadership. David's trust and willingness to provide me the space to be confronted allowed me to grow throughout my time as President.
I know that my experience with David is not unique because over the past few months I have had the pleasure of meeting and hearing from literally hundreds of WHRB alumni (AKA ghosts) who share the same sentiments about David. People unequivocally say two things, that David was an example of excellence and that he encouraged them to pursue excellence beside him. David is a leader by always seeing the best in others and by giving them the tools to prove him right. Over the past few months, I have repeated that David is the best thing to happen to radio since its advent but I will now add that David is the best thing to happen to me since arriving at Harvard four years ago. I look forward to honoring David, May 18th 1-8pm, on the station he loves most, WHRB 95.3 FM!
-Aaron Fogelson
Below are a small sample of the sentiments shared by listeners:
"I have been listening to WHRB for so many years that I can't even guess what year I first began listening. David is wonderful, remarkable and unique. Saturday afternoon opera programming will not be the same without him."
"David was so versatile in terms of knowledge of music. During my many years of listening, I had gotten the impression that his expertise was limited to opera. However, a couple of years ago, during the May orgy season, he handled a 45-minute tribute segment on Frank Sinatra, to observe what (I believe) would have been Sinatra's 100th birthday. David was very well-versed in Sinatra's voice, career and recordings, which demonstrated the vast extent of his encyclopedic knowledge."
"The thought of not hearing David's voice again tears me apart. He knew more about opera than anyone and he spoke of it with such elegance. No radio announcer will ever take his place in my heart."
"All I want to say is there is no other David Elliott, period. He is a one-of-a-kind and he will be missed by all who listen to WHRB."
"I rarely cry but when I heard what happened to David I shed many a tear. I rarely use the word love but describing how I feel about David Elliott, it's appropriate. David's broadcast got me through a period of my life when I could hardly leave my home. I felt alone and destroyed but David would find a way to lift me up every time. I only wish I could repay all he has done for me. Please let him know that I know hundreds who feel just as I do. There must be tens of thousands out there that David has affected like this, I just wish we could find a way to thank him."
"Send David all my best! He is the voice of Boston Radio! He will be missed by us all but never forgotten."
"The Boston classical community is already missing its guardian angel. David's voice brought life and depth to music. David's knowledge of music is simply unmatched. We all miss his presence on the radio dial but we feel lucky he has trained so many young music minds who will hopefully step up in his place. Tell David that he has touched as many hearts as he has ears."
Below are a small sample of sentiments shared by station alumni:
"Please let David know how grateful I am for his contributions to the station - particularly his generous participation in the comp; the history lecture is so important for institutional memory and understanding the context in which we broadcast. I would also like to thank him for his patience and willingness to teach me and Max how to engineer the Mem Church service. His presence at the station has always been a reminder to me of WHRB's mission & dedication to our listeners. Thank you David!"
"I hope those who visit David can give him a hug full of love from those of us far away."
"David's work, not only with the students and ghosts of WHRB but also with maintaining the station's artistic excellence over the years, has demonstrated to me the profound difference that one individual person can make in the world."
"David will be getting many more thoughts and prayers than most people. Hope it helps."
"On Commencement Day every year, I turn on my radio, and listen to all the pomp and circumstance of Harvard through the voice of David Elliott."
"I would love it if you would share with David my best wishes and happy thoughts of his amazing leadership and friendship during my time at WHRB in the 80's. I spent several happy years expanding and sharing my love of classical music with the Boston area. Two of my sons went on to Harvard as well, and they both were in the jazz department. There was no question who really ran that wonderful haven, and Dave was just an amazing friend to all of us. Dave and WHRB have formed a bond between my sons' experience and mine. We all love Dave and can't thank him enough for his strong leadership and continued good will toward all the undergraduates that darkened the door — and it continues now as we live on as ghosts. All the ghosts combine for a resounding BOO of good will and thanks to Dave."
"David's presence and professionalism was always an inspiration, along with his unbounded energy. David is the soul of WHRB."
"Dear David: Your devotion to WHRB has always impressed me--so few people these days seem to have a sense of "service to others" or to a worthy cause, but you clearly do. My years at WHRB were absolutely formative for me (I was Classical PD for a time, as I recall), and of course I met various people I've continued to know throughout my life. I'll never forget how welcoming you and others made me feel from the moment I stepped foot into the Sanders basement space. College can be so intimidating and isolating--but not at WHRB! Warm regards from someone whom you perhaps remember faintly but who remembers you fondly and with great respect--two rather different feelings that somehow blend (for me) in regard to you."
"Have been thinking about David and his huge positive impact on the diasporan WHRB community. He were slightly behind me at HRB, so we didn't really know each other personally, but my contacts with him over the years have always been received well, with due consideration, and he, in my mind, has been the glue in the WHRB community. There's always someone in most families who serves that function, and he's it."
"Dear Dave, you are one of the most lovely, thoughtful, generous, and supportive people I've ever known, and have been such an important person in my life. Since I'm also the world's worst correspondent, you'd never know how often I think of you, a failure on my part which I deeply regret at this moment. I'm devastated to learn of your illness, but also cheered to know all the loving help and support you're clearly receiving. I love you dearly and hope to see you sometime soon."
"This may have changed since my undergraduate dates, 1977-81, but Harvard at the time offered no courses nor course credits in media or communications. David Elliott was the closest we had to having a professor in those disciplines, and I still remember the distinction he drew between "competence" and "elegance." He's been hugely influential to generations of WHRBies, who watched, listened, and learned."
"David is one of the most special people I know. At the 75th Anniversary celebration, he did something few every think of: He united multiple generations in the celebration of a common goal and a wonderful experience. All of us think of WHRB within the context of our time spent there and what was going on for our generation. In my case, we were in the throes of Vietnam, just having experienced the assassination of our U.S. President. We have come a long way since then and it is a joy to have met so many people who followed us at WHRB. Thank you David for introducing us."
"Dear David: You've been in my thoughts and prayers ever since I heard the news about you a couple of weeks ago. You've probably already learned that you'll be spending more time consoling all of us, your family, friends, WHRBies and ghosts, than anything we can offer you. But that was always so. You gave so much of yourself for so many years, I hope (I'm sure) you can see how much so many want to give back. I'll need an Epistolary Orgy of sorts to recount all of the wonderful memories of the time I shared with you at WHRB, and on occasions thereafter, and all the ways those times impacted my life."
"Your voice—pure magic. Your example of excellence combined with cordiality and class—a lifelong example."