​Viktor Tsoi: Blood on the Wall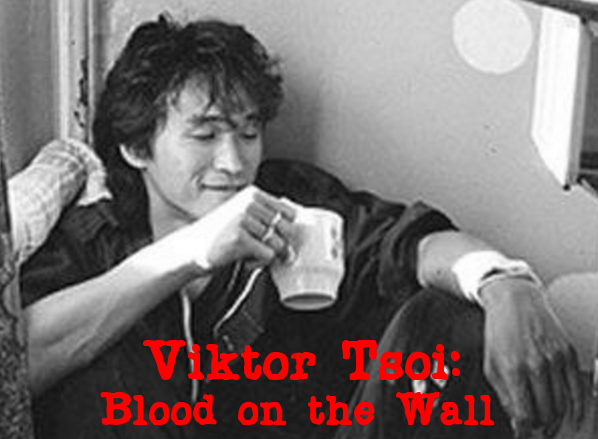 Join WHRB Cambridge on December 7th from 10:00 p.m. to December 8th 3:30 a.m. for an Orgy featuring songs by Soviet post-punk band Kino, focusing on lead singer Viktor Tsoi. At the end of the Soviet era, Tsoi and Kino rose to prominence and were embraced by an increasingly restless Soviet audience. Perhaps it was a ubiquitous feeling of alienation that Tsoi so artfully captured that brought him such adoration from Soviet listeners. Tsoi continues to be influential and adored even twenty-seven years after his death.
Tsoi was born in Leningrad (known as Saint Petersburg today) in 1962. His ancestry is a mix of Russian and Korean. His musical career started early in his life, and he formed a band while he was still in school. His love for music led him to art school, but he was expelled because school was not exactly his forte. His musical influence can be traced to Vladimir Vysotsky, another Soviet singer of the 60s-80s whose music also politically charged and has continued to hold high prominence in the post-Soviet space. Besides Soviet musicians, Tsoi was also influenced by the popularity of Bruce Lee, whom he came to emulate as well. Tsoi came into prominence after being featured in Sergei Solovyov's 1986 film Assa. He worked for a period of time in the coal boiler called "Kamchatka" in Leningrad. This was an unlikely--or perhaps in the context of the Soviet space and because Leningrad has always been a cultural hub in Russia, very likely-- place for the growth of many rock musicians. Tsoi was married to Marianna Rodovanskaya and they had one child together, Aleksandr. It was also rather well known that Tsoi fell in love with Nataliya Razlogova, who worked on the movie Assa with him, but Tsoi ultimately remained with his wife. Tsoi died in the summer of 1990 in Latvia, in a car collision.
This is just a skeleton of Tsoi's life. Tune into WHRB for a more comprehensive story of this great man. We'll be discussing not only his life, but also his legacy and how his legacy has continued to live on today and how it has become used for purposes vastly different than he originally intended.
Here are some songs we'll be playing:
"Алюминиевые огурцы" ("Aluminum Cucumbers")
"Восьмиклассница" ("Eighth-Grade Girl")
"Транквилизатор" ("Tranquilizer")
"Последний герой" ("Last Hero")
"Мама Анархия" ("Mother Anarchy")
"Группа крови" ("Gruppa krovi" / "Blood Type")
"Звезда по имени Солнце" ("A Star Called Sun")
"Пачка сигарет" ("Pack of Cigarettes")
"Завтра война" ("Tomorrow-War")
Nataliya Palinchak is a DJ for the Record Hospital. The Record Hospital is on-air weekdays from 10pm-5am.