Violinist Gil Shaham on the Beethoven and Brahms Violin Concertos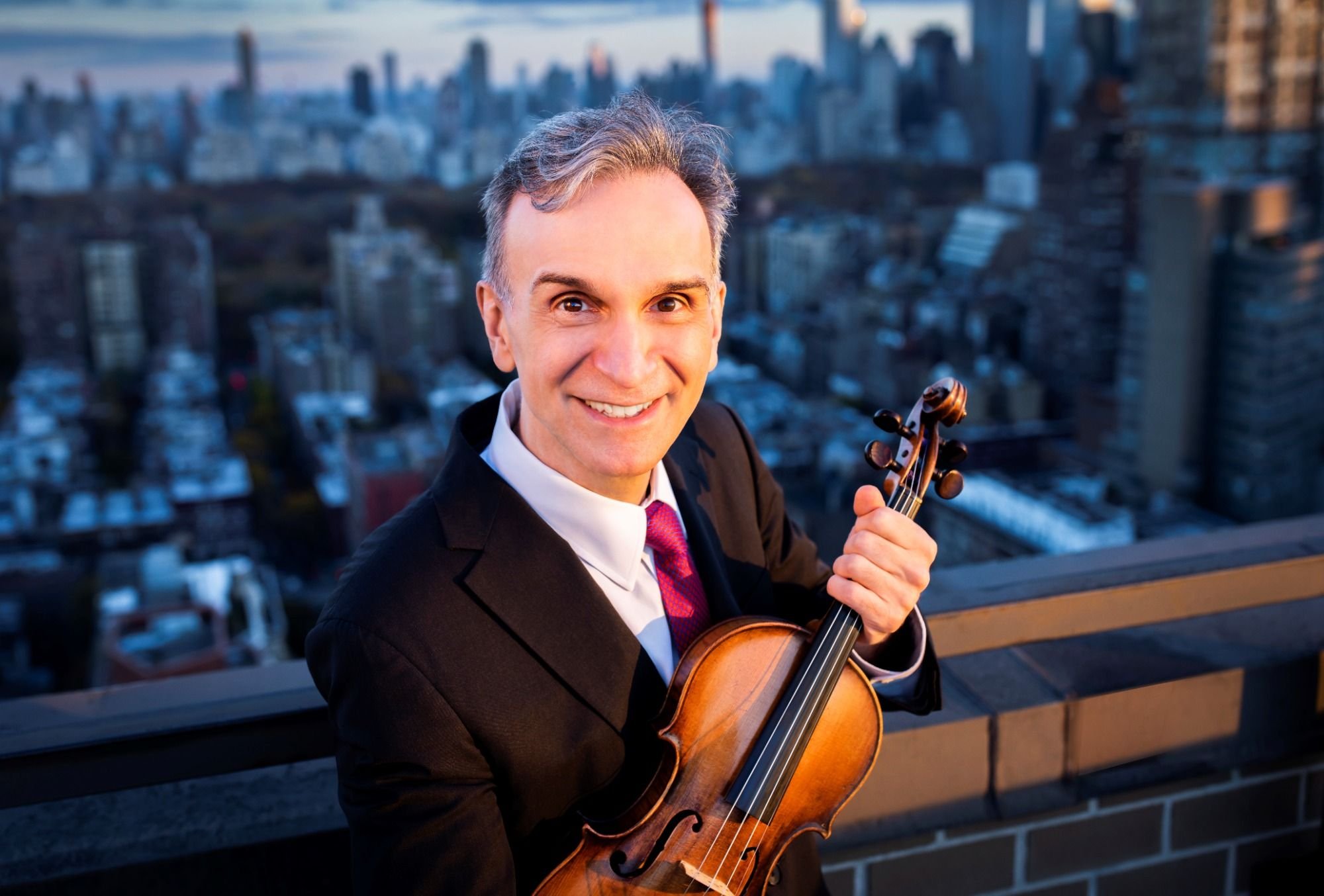 Courtesy of Chris Lee.
Listen
Violinist Gil Shaham appears regularly with the world's leading orchestras, including the Berlin Philharmonic, the Los Angeles Philharmonic, the New York Philharmonic, and the Boston Symphony Orchestra. He has over two dozen CDs to his name. His latest release, entitled Beethoven and Brahms: Violin Concertos, was released on March 12th. WHRB's Allison Pao spoke to Shaham about his new album, his new position at the Bard College Conservatory of music, and how the pandemic has affected his work. You can listen the full interview above or read some excerpts below.
Allison Pao: Can you tell us about your new recording? The CD includes the Beethoven and Brahms violin concertos, and the album explores how these two concertos are linked by the violinist Joseph Joachim. So first, could you tell the listeners a little bit more about that connection, and anything else you want to share about the album?
Gil Shaham: I think many people say, "These are my favorite violin concertos," and I have to say, I would count myself among those people. They are kind of the pinnacle of this genre of violin concertos.
Beethoven composed the violin concerto very quickly. I guess he was like a composer in the zone. Did you see that video of Steph Curry hitting 110 three pointers, one after the other? It's off the charts. "In the zone" I think is an apt analogy for what Beethoven was doing in 1806. He was producing one timeless masterpiece after another, including the violin concerto, and he was writing very, very quickly. People often talk about the perfection of Beethoven's music. I remember a lecture of Leonard Bernstein where he said something like with Beethoven, you always feel like the next note is exactly the right note. It couldn't have been any other note. And I always thought that was the genius of Beethoven. But these days, I think his genius was actually much greater than that even, because I think he would sit down at the piano, and just extemporaneously, he would just improvise perfection.
And the violin concerto, legend has it, was completed at the very last minute, and the musicians were sight reading the orchestra part on the morning of the performance. Franz Clement, the renowned violinist, virtually sight read the solo part in the evening's performance, if you can imagine that. And it was a fairly successful premiere, if I remember correctly. The story was that after the first movement, there was an ovation. But somehow afterwards, the Beethoven Violin Concerto remained neglected, somehow it wasn't really as celebrated as it is today.
It was really the efforts of the violinist Joseph Joachim that brought it back into prominence. He performed it in London and elsewhere, also in Germany. And I guess, maybe fortuitously, maybe the stars aligned a particular way, that a 14-year-old Johannes Brahms attended a concert in Hamburg, with Joseph Joachim playing the Beethoven Violin Concerto. And we were very lucky that for this project, we got to speak with Styra Evans, who is one of the brilliant Brahms scholars of the day. She wrote the [album] notes for us. She says that concert for Brahms, hearing the Beethoven Violin Concerto, changed his life, if you can imagine that kind of impact. I would have loved to have been there, to have been a fly on the wall. Brahms ended up approaching Joachim, and they were to become lifelong friends. And if you cut to many years later, 30 years later, Brahms began writing his own Violin Concerto. And the collaboration for him with Joachim is very famous. The concerto may well have been autobiographical and about their very close friendship. In fact, the premiere of the concerto was a performance with Joachim playing the violin solo part, and the orchestra in Leipzig, and Brahms himself conducting from the podium.
You previously recorded the Brahms Violin Concerto with the Berlin Philharmonic and Claudio Abbado almost two decades ago. Between recording the Brahms with the Berlin Philharmonic, and now with the Knights, is the style of work different or is it a very similar process?
I would say this is a much very different process, much less formal, in a way. We're all very close friends. And I always think, music is maybe best when you're working with friends. Maybe that's true for everything, right? We were able to spend a lot of time together, we known each other for much longer. And I don't know maybe with age, some things do change. I remember I was in my 30s and Maestro Lorin Maazel said to me, he said, "Oh, Gil, you'll see the older you get, the more you enjoy music." And maybe now I'm starting to understand what he was saying.
Allison Pao is a radio host for WHRB Classical. This interview aired on Sunday, March 28th, at 2:30 PM.