We Need New Music: A Conversation with Giancarlo Guerrero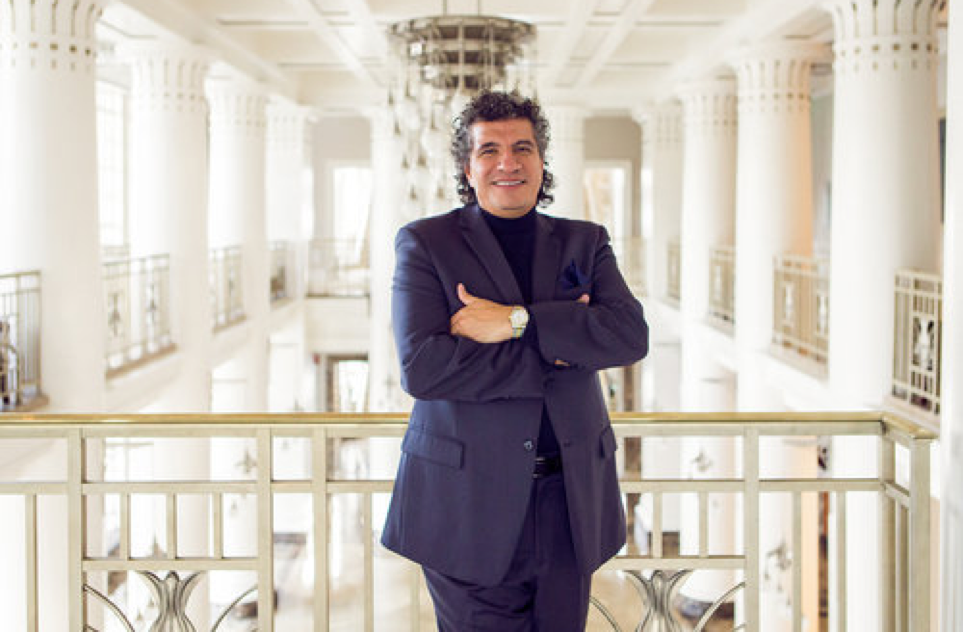 Courtesy of Giancarlo Guerrero
Listen
"I do believe that the [composers of the] new music we are performing right now will become the Beethovens and Mozarts of the future." Giancarlo Guerrero, six-time GRAMMY® award winner and music director of the Nashville Symphony, is a passionate proponent of new music. Since becoming the music director of the Nashville Symphony in 2009, he has recorded eight world premieres and conducted countless more contemporary works live with the ensemble. We spoke to Mr. Guerrero about his passion for new music, the risks of an orchestral commission, his opinion on the symphony's role today, his admiration for the Boston Symphony Orchestra, and his favorite part of being a conductor. Read on for a preview or listen to the entire interview above.
Pao: People criticize contemporary music as atonal, unpleasant, or simply unintelligible. What would your answer to those critics be?
Guerrero: …The problem is that yes, for some time in the earlier and mid part of the 20th century, music became very experimental, and yes, at some point it even became almost like a dirty word. I totally understand that at times things were taken a little bit too far, but it was always with the aim of experimenting. In my opinion, we always have to remember that all music was new at some point. Even Beethoven, Mozart and Bach had world premieres, and we tend to forget that. And even that music during that time was considered very avant-garde and forward thinking. I guess it's just a normal human trait that things that are new sometimes take a while for us to understand and digest. For me, I'm not doing anything different that has not been done for the last 500 years. When Beethoven died, somebody had to program his music. Otherwise, we would never have heard it. People like Liszt and Wagner took it upon themselves to program Beethoven's symphonies.
…Even as much as we love Rachmaninoff or Stravinsky or Brahms or Beethoven, if that is all that is presented, eventually you do get tired of it. I always use the analogy that if you were to get a great meal, if you love cheesecake, after a while, if that's all you're going to eat, you're going to get tired it… So we have to keep expanding our repertoire. We have to evolve as human beings, and a big part of that is presenting people with new music…and challenging each other.
Pao: This might be more controversial, but does it ever happen that you or the other musicians don't really like something commissioned for the orchestra, and in that case, do your judgments not really matter? Is it still important to move forward with the performance to present a new work?
Guerrero: Absolutely! How boring would my life be if I knew that everything I would do I would love! Come on! One great thing is that it's always an adventure. And I'll even tell you, I've been very surprised sometimes, when I commission a particular composer that I love, that I know their language, or I think I their language, what they've been doing for the past 40 years in some cases, and then they write a new piece for me, and I look at it and I say, "where did this come from?" …It can be quite surprising. There are times that a particular piece for me personally, I just don't know what to do with it. And that is one of the great magical things about music.
…Yes, when I do a commission, there is always the possibility that the piece might not speak to me in a higher degree, but because I have a commitment to the composer and to the institution, I have to put 800% of my energy into it. Will I ever do the piece again? You know what? Probably not. Because I don't think that I should be dishonest and try to present something that personally for me does not communicate. But I found it sometimes interesting that even if I myself am not getting a feel for it, the musicians are loving it. Or the audience is loving it. So that's why I think it's absolutely imperative that I present it in the most honest way I can. And then after that it's out of my hands. We let history and the audience and the musicians and everyone else decide whether this piece is worthy of staying in the repertoire.
Pao: The Nashville Symphony in recent years has definitely tried to innovate its programming, increase its community engagement, and draw a more diverse audience. What do you think is the role of the symphony in an American city today? What do you think the role of the symphony should be?
Guerrero: First and foremost, you have to service your community. And every city is different. Every city has a different pulse. I have to tell you, I'm very old fashioned. I live in Nashville. I believe that music directors should part of their communities, and for me this has been one of the great joys of living in a city that proudly calls itself Music City…
Pao: Compared to the diversity of popular music, people sometimes criticize classical music ensembles for all sounding the same. How would you answer to that? Do you think that each symphony has its own unique sound, unique focus, or unique mission? If so, what do you think makes your ensemble, the Nashville Symphony, special?
Guerrero: [after speaking about promoting new music in Nashville] When you perform music which has its birth in our city, people take ownership of it. People say, "You know, this was written for us, and we became the first ones that got a chance to experience it." And I'm going to tell you something. You know who I use as a role model for this? The Boston Symphony. Particularly back in the days of [music director] Serge Koussevitzky. If it wasn't for Serge Koussevitzky's commitment to the living composers of his day, listen, we would not have a lot of the pieces we now almost take for granted. I look back at all of the great music that the Boston Symphony commissioned, and in some cases, Serge Koussevitzky out of his own pocket made this commitment and commissioned people like Bartok and Stravinsky, and the list goes on and on. And now, as I said, those pieces are part of the standard repertoire, and who do we have to thank for that? The Boston Symphony.
---
Allison Pao is a Producer for WHRB Classical. You can see Giancarlo Guerrero conduct the Boston Symphony Orchestra on March 15th, 16th and 17th at 8 pm in Symphony Hall. Tickets can be purchased here: https://www.bso.org/Performance/Listing.