A WHRB Chat With Mnemonist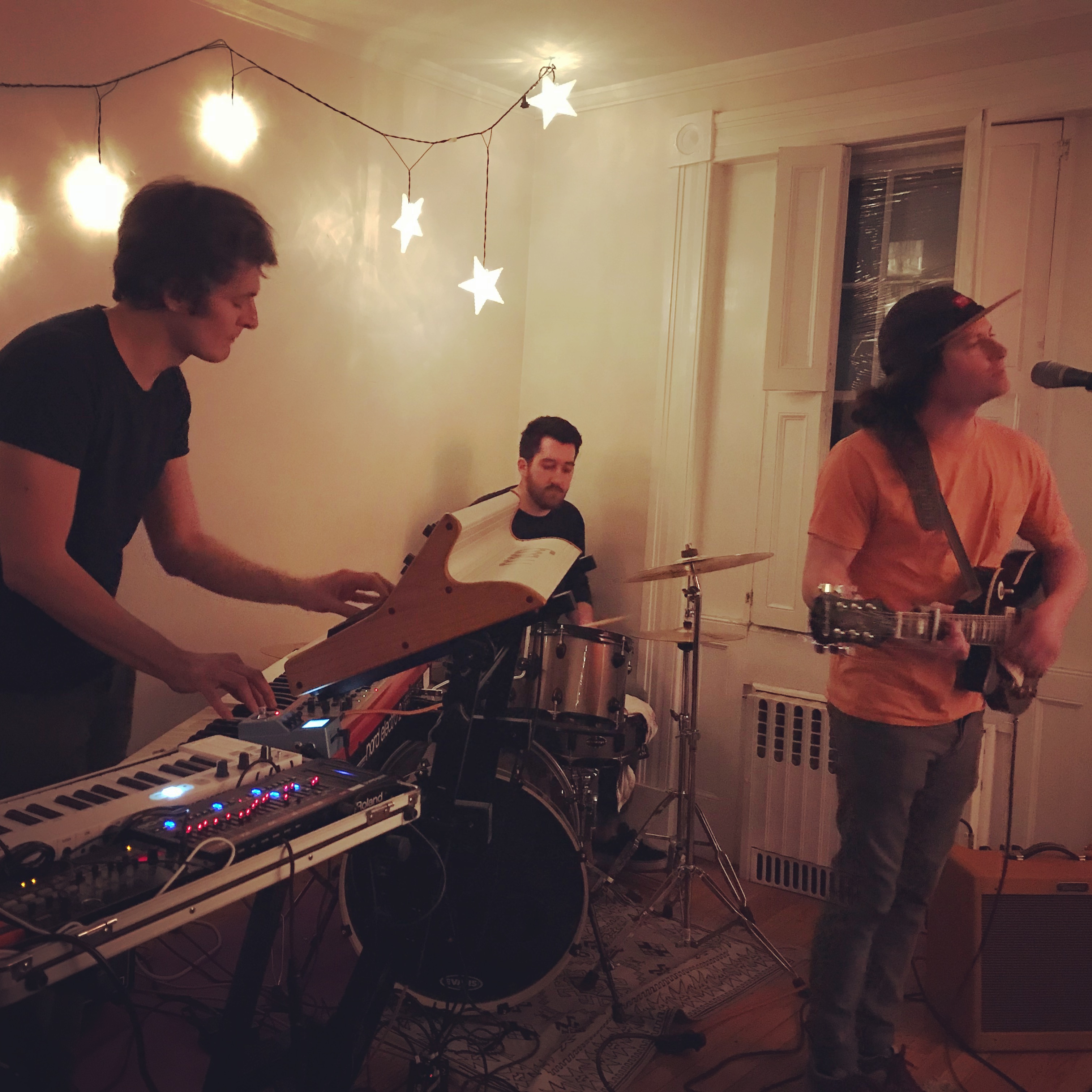 <span id="selection-marker-1" class="redactor-selection-marker"></span>
Before their concert in March 2018, WHRB had the opportunity to sit down with Mnemonist, a local Boston trio. The band is now on to what they jokingly refer to as "Season Three," the third year since guitarist, singer, and songwriter, Brett West, was joined by keyboardist Emanuele Leoncini and drummer Phil Culbertson. Mnemonist puts an electronic twist on folk/indie rock, creating an intimate sound with a unique sense of nostalgia. Portions of the interview have been transcribed below.
Maya Levine: So, speaking of that [the confusion around pronouncing "Mnemonist"], how did you come up with that?
Brett West: Yeah, so I was struggling to find a band name and a friend found the word in the book and showed it to me … and I really liked its connotation … so "mnemonist" is someone who has a really high memory recall, it's tied to the word mnemonic. I like how it sounds phonetically, and we felt that it could go with the band and we are thinking more and more of how we can incorporate it into the image we try and create, but other than that it's mostly just a name.
ML: Your music seems really intimate… do you feel like your music is kind of a vehicle for your own expression, or do you try and keep the lyrics more general and that's how you connect with your audience, or do you feel like you don't even need to subdue your personal experience because you feel that still has a universal draw?
BW: I think when you're writing lyrics, generally songs are about past experiences, and I think my lyrics tend to be wordy and lyrical, contemplative in a way, and about relationships.
Phil Culbertson: I know that the sing "Love and Sex" on the EP, when we were working on that, I felt that we could do it in a way that was very classic and old school, almost like it was from the 50's … so I think it kind of crafts that mood that's a throwback to earlier times.
Emanuele Leoncini: I think that the kind of lyrics that he [Brett] writes, to me they can be really provocative … they make me think of something when I listen to the lyrics, and then we match our parts to the emotion that we feel [when we see the lyrics]. And I think that one thing we work a lot on is to sculpt the sound to match the emotion that we feel out of the song that Brett brings us … so [when Brett first brings the song] the song is guitar and voice … there are no melodies, the structure is to be decided, and then we pull along for a nostalgic thing, I think [in the way Brett writes] there is a bit of sweetness and sadness, and I think we try to bring that musically as well, so that we're arranging … a sort of flow of emotion.
PC: Yeah, we're not ever really beholden to a structure… we just do what feels right, and we do from there.
ML: How would you guys say that you use your strengths to collaborate in your music… How are you in touch with what should be emphasized when, and how to be present without dominating the scene?
PC: I mean I think by virtue, we've only ever been three people, and one of those people is a keyboardist, so I think by a lot of people's standards we're, like, "missing" a lot of things, but what that did is it allowed us to say, "Okay, we don't have to have everything going at once." You know, we can create songs that have space, and like sometimes it's just him singing, sometimes it's just the keyboards playing a nice melody, we try and mix it up a lot, we try to do a bunch of different things, but I think that comes from the fact that we're only three people and so we have to be really intentional about what levels we're all playing at to make sure the balance is really good.
EL: And I think that for being a trio, it makes you so interconnected … everything we do is intentional because otherwise we break this sort of equilibrium. It's up to each of us to find our space, and then by working together over the weeks we get to the point where we feel like a song is coming together.
BW: And on top of all that, I think we've evolved … we're getting more natural, and like, when I bring a song to the band, it's pretty cool to see how we step in, these guys know what they're going to play pretty much right off the bat, but we definitely, like, work through things and in making music and doing what we need to be doing as a band, the roles are becoming more clear.
PC: And I think no one is every afraid of feedback … it's very open and is without ego when we're writing, which I think is really important, and then we can all get on that shared vision where we're making something that works.
ML: Do you have an intention with your music that you're trying to grow as [Mnemonist] grows, or are you just playing it by ear… do you guys have any goals for your sound or for yourselves? And before we even go in to that, do you want to talk about where your sound started?
EL: So I think that in the very beginning, [Phil and I] felt a bit that we wanted to be just a bit supporting, but [the sound] was really classic, it was really pure classical road sound, electric piano, Phil was really straight, it was really more of a folk sound in the beginning … but then we kind of switched over when we decided not to take a base player, because then things got a bit shifted, when you start using a synthesizer, the sound changes. And then I started to be more reverberary, more dreamy in the sound of piano … and so I think our sound seems to depart from that, and at the same time, Brett's style of writing has changed a lot … become more complex, more orchestrated in a way.
PC: I do think that it started out more like a traditional band… like it would have been real easy to classify us into fold/ rock alternative, but now I think that … we had to get a little creative. I think we're indie, if that's a genre, but I don't know exactly what our music is right now.
Some of the goals that we sat down and talked about at the end of last year is that … we didn't want to play a show just to play a show somewhere. So we tried to be really intentional about the type of bands we were playing with, the frequency. We don't want to play every weekend and have one or two people at each show, that's just a waste of time and energy. And musically, I think we're getting more electronic, and making our songs more concentrated. Shorter and to the point, and maybe a little bit more direct.
BW: And like they said, I feel like my songwriting style has definitely changed since we started, because now I know that I'm with this band, and he [Emanuele] can come in with this stuff, and Phil's gonna come in with all this cool stuff, and I can count on that, and it gives more freedom that I don't need to entertain the whole audience just with what I'm doing with guitar and voice, I can focus more on what the emotions I want to convey and how, and have support while I'm doing that.
---
Maya Levine is a DJ for the Record Hospital, which airs 10 p.m from 5 a.m. every weekday.