WHRB Classical Reviews the 40th Season Premiere of the Boston Philharmonic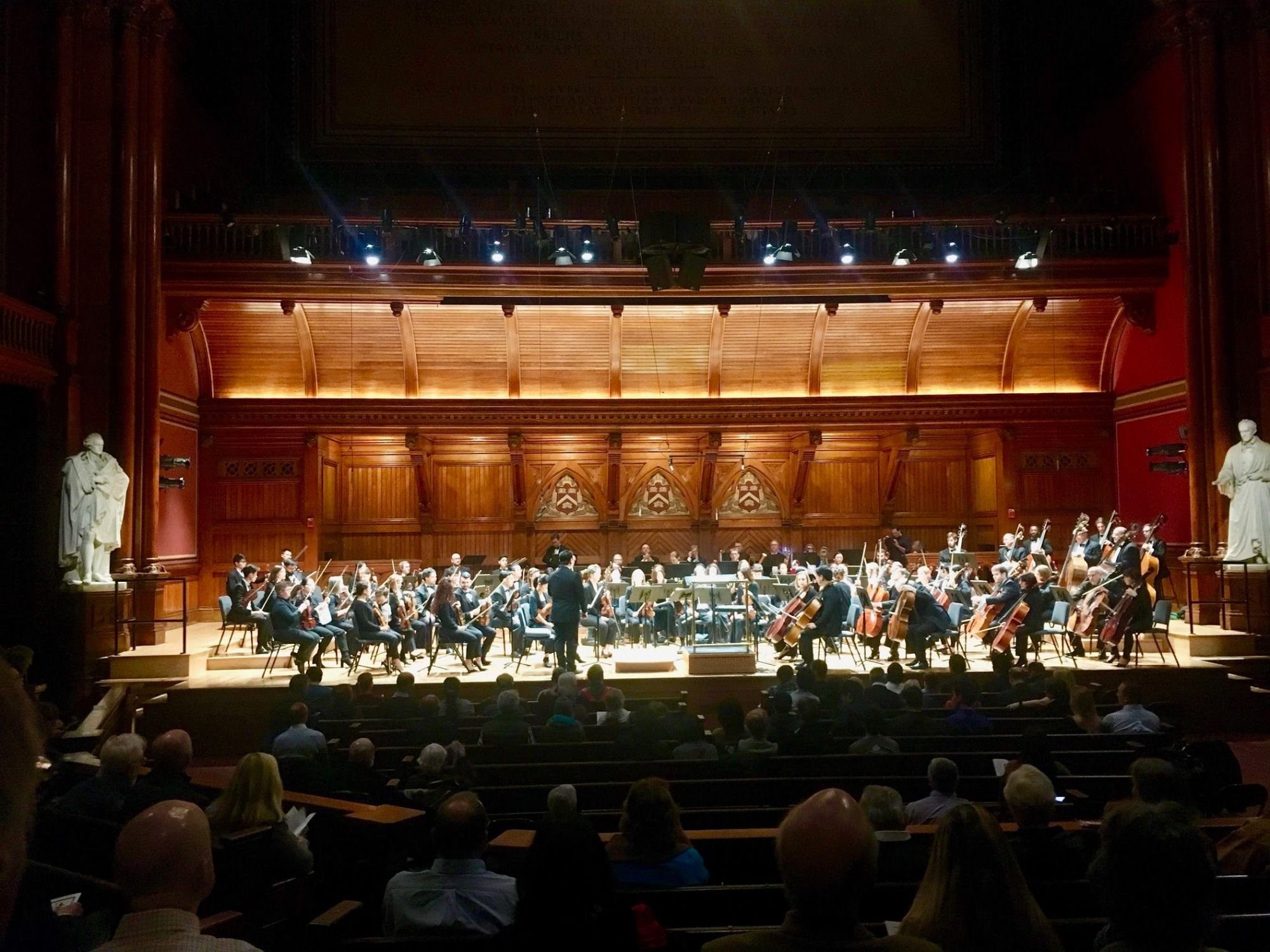 The concert took place at Harvard's historic Sanders Theatre and was part of the Boston Philharmonic's Discovery Series_. Photo courtesy of Amy Zhou._
---
This year marks the Boston Philharmonic Orchestra's 40th anniversary, as well the 80th birthday of Benjamin Zander, the Boston Philharmonic's conductor. Last night I attended the season premiere, which took place in Harvard's beautiful and historic Sanders Theatre. The program was brilliant, featuring the Glinka Overture to Ruslan and Lyudmila to start off the night, followed by Dvorak's Concerto for Cello and Orchestra and Brahms's Symphony No. 1. The Dvorak was played by Jonah Ellsworth, an extremely gifted and talented cellist from the Boston area.
The concert began almost abruptly. Benjamin Zander leapt onto the stage, full of energy, taking the entire audience by surprise as he immediately led the orchestra into the overture. The overture was a fun, short piece to with which to open the concert, showcasing the skill of the orchestra and establishing the atmosphere. As the concert was part of the orchestra's Discovery Series, the rest of the night resembled something like Leonard Bernstein's Young People's Concerts. Zander is a fantastic educator, and before each piece he would highlight and explain some of the major themes and melodies in the Dvorak and Brahms. By allowing the audience to first hear the themes in the form of orchestral excerpts before playing the entire piece, the audience was definitely much more engaged and informed.
In describing the Dvorak Cello Concerto, Zander insightfully commented that "to play this concerto well, you not only have to be a good cellist, but you also have to be a great storyteller." The concerto was beautifully played and wonderfully accompanied by the orchestra, but as Zander said, "Not many cello concertos were written since their sound is easily covered by the orchestra." This was very much the case for Ellsworth. Although his sound was beautiful, the acoustics of the hall combined with the size of the orchestra at times conspired to overpower him. However, Ellsworth was technically deft and musically expressive, and his stellar performance received a standing ovation from the crowd.
It was my first time hearing the Boston Philharmonic Orchestra and my first time seeing Benjamin Zander conduct. I really admired the incredible energy Zander brought to the orchestra and his evident enthusiasm towards his music. There are two more nights of this performance in NEC's Jordan Hall and Sanders Theatre; don't miss it!
---
You can hear the Boston Philharmonic perform Glinka, Dvorak, and Brahms on Saturday, October 20 at NEC's Jordan Hall and on Sunday, October 21 at Harvard's Sanders Theatre. Purchase tickets here.
---
Amy Zhou is a producer for WHRB Classical. Tune in to WHRB for classical music anytime Monday through Friday from 1 to 10pm, Saturday from 1 to 9pm, and Sunday from 2pm to midnight.