WHRB at Newport Jazz Festival: Day 1 Highlights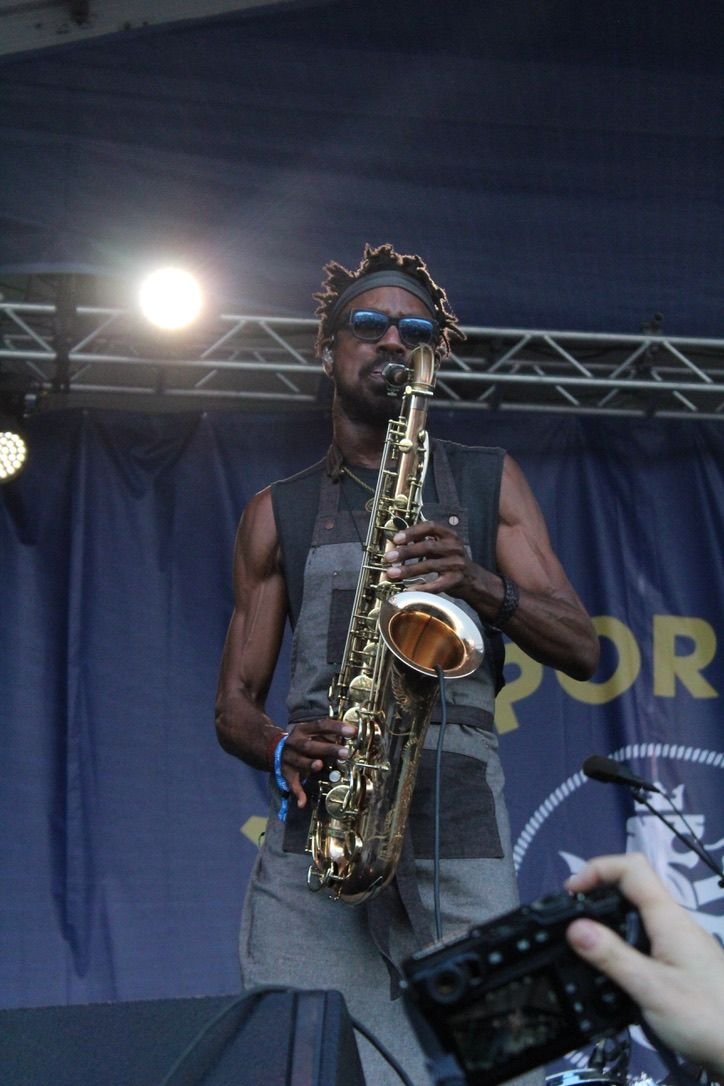 // Image courtesy of Dylan Roy
This summer, WHRB took to Rhode Island to provide coverage of all three days of the 2022 Newport Jazz Festival. Friday, July 29 marked the start of the festival, where hundreds gathered at Fort Adams to see longtime performers and newcomers alike. Stay tuned throughout the week for more highlights and interviews from each day of the event. Here's who we were loving on the first day:
Shabaka Hutchings (pictured above) closed out the Harbor Stage on Friday with some stunning solo pieces on the shakuhachi, a traditional Japanese bamboo flute. He recounted his difficulty in acquiring the instrument during a trip to Japan, saying that the shopkeeper would not sell it because it was too difficult to play.
// Image courtesy of Dylan Roy
Luckily for us, Hutchings refused to leave the shop without the flute, and has since developed his own masterful technique with it. The beautiful tone and timbre of the shakuhachi, which is featured heavily on the Hutchings' 2022 solo release Afrikan Culture, set a meditative state that entranced the crowd.
// Image courtesy of Dylan Roy
On Saturday, Hutchings would take his flute and saxophone to the Fort Stage with an explosive performance by his group Sons of Kemet. Their set kicked off with brilliant dual drummers Tom Skinner and Eddie Hick, who were joined by Hutchings on tenor saxophone and later by Theon Cross on tuba. As a driving beat came in moments later, many in the audience rose to their feet to dance at the foot of the stage.
// Image courtesy of Dylan Roy
Terence Blanchard paid tribute to Wayne Shorter on Friday afternoon with an inspiring performance that called back to Shorter's work while displaying Blanchard's own musical innovation. The set blended moments of chaotic sound with an incredible level of precision, and Blanchard's horn rose through the noise with several powerful solos.
// Image courtesy of Dylan Roy
The band was also accompanied by the Turtle Island String Quartet, who made an appearance on Blanchard's 2021 album Absence. Alongside the rest of the band, the quartet juxtaposed funky grooves with sections that were more reminiscent of chamber music than hard bop. Thanks to Blanchard's skilled composition, though, these contrasting tones were as smooth as they were engrossing.
// Image courtesy of Dylan Roy
Norah Jones wrapped up the last hour of the day with a heartfelt performance on the Fort Stage. Along with bassist Chris Morrissey, guitarist Dan Iead, and drummer Brian Blade, her spirited vocals created an atmosphere that was easy to get absorbed in.
// Image courtesy of Dylan Roy
As the sun went down at the harbor, Jones closed her set with what is perhaps her most well-known song: "Don't Know Why" from her debut album Come Away with Me. Many in the crowd found themselves singing along to this soulful tune as they eagerly awaited the next two days of the festival.
Stay posted for more photos, highlights, and interviews from the 2022 Newport Jazz Festival at whrb.org.
// Sam Murdock '23 is an Ad Board member and staff writer for the Jazz Spectrum.