WHRB at Newport Jazz Festival: Day 2 Highlights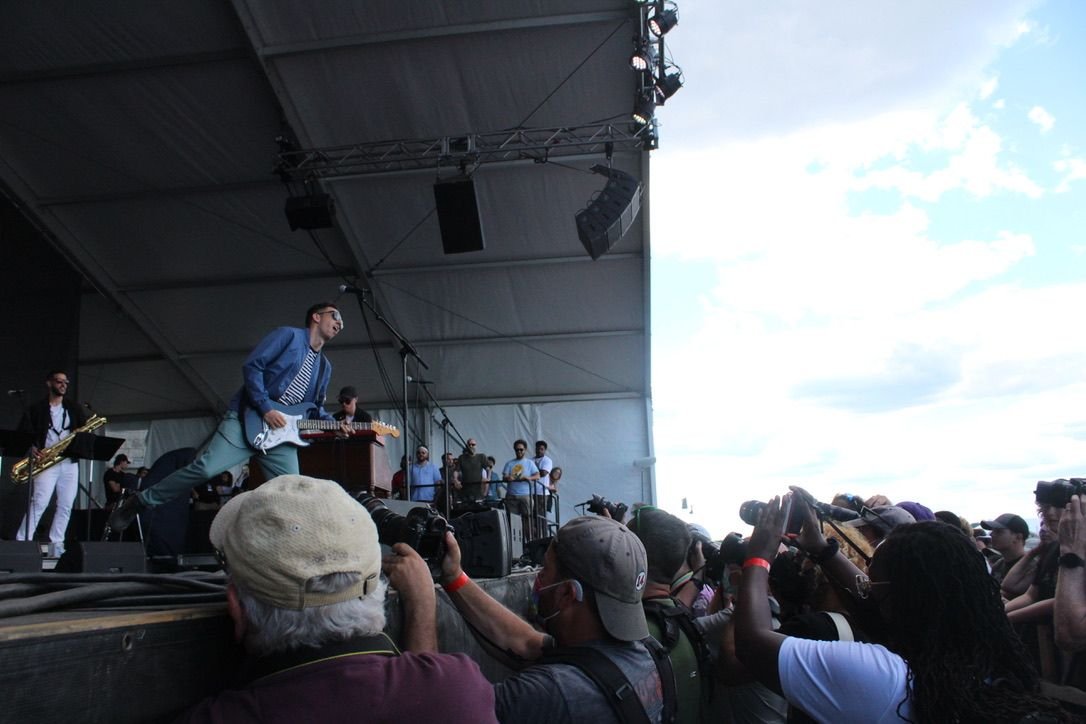 // Image courtesy of Dylan Roy
Day two of the historic Newport Jazz Festival was packed with energy and excitement. Hundreds of fans turned out for a star-studded lineup of artists, including drummer Makaya McCraven, bassist and vocalist Esperanza Spalding, vocalist Cécile McLorin Salvant, and guitarist and bassist Cory Wong, pictured above. Though they represented diverse sounds and traditions, these artists were united in the passion that they brought to Fort Adams.
// Image courtesy of Dylan Roy
Makaya McCraven visited the Fort Stage in the early afternoon, backed by an all-star band of game-changing musicians: Greg Ward on alto sax, Marquis Hill on trumpet, Junius Paul on bass, Matt Gold on guitar, Joel Ross on vibraphone, and Brandee Younger on harp. The artists — some of whom have collaborated before, on albums such as Joel Ross' 2022 The Parable of the Poet and Greg Ward's 2019 Stomping Off From Greenwood — displayed their synergy as McCraven laid down stellar grooves.
// Image courtesy of Dylan Roy
During their set, the group played a few pieces from McCraven's upcoming album In These Times, including the title track and the song "Dream Another." They seamlessly interwove McCraven's beats with exceptional solos from Younger, Ross, Hill, and Gold, creating a perfect setting to jam to at the foot of the Fort Stage.
// Image courtesy of Dylan Roy
Cory Wong brought a fantastic big-band sound to the Fort Stage later in the afternoon with a five-piece horn section and fervent band. The horns laid down impeccable Count Basie-esque licks on top of Wong's hard grooves, a la Wong's 2022 release Power Station, and the whole set felt like a celebration.
// Image courtesy of Dylan Roy
Wong led the group with a charisma that made it hard to look away (and easy to capture great photos). With some of the best funk and fusion around, the band kept spirits high and brought the audience to their feet to stomp, clap, and dance again and again.
// Image courtesy of Dylan Roy
Esperanza Spalding brought her bass and bright expressions to the Fort Stage on Saturday evening, crafting a set geared at helping the audience back into the seat of their bodies. How? By presenting a series of soul-healing tunes and inviting the audience to sway, smile, and sing along.
// Image courtesy of Dylan Roy
Spalding, a music professor at Harvard, is no stranger to musical therapy and the healing arts: Her 2022 ArtLab course "Songwrights' Apothecary Lab" and her 2021 album of the same name were inspired by the healing power of music and the manifold benefits of creative practice. As she asked the audience to join her in song and dance, one could feel her mission resonate throughout the crowd, where so many had gathered because they, too, believed that music could heal.
// Image courtesy of Dylan Roy
Cécile McLorin Salvant, who took to the Quad Stage on Saturday evening, commanded the attention of the crowd as soon as she stepped out with a look and sound that was incomparably colorful and expressive. The Newport veteran poured out strong messages and powerful emotion in her voice, displaying unmatched storytelling as she featured songs from her latest release Ghost Song.
// Image courtesy of Dylan Roy
Salvant was joined by Alexa Tarantino on flute, Keita Ogawa on percussion, Yasushi Nakamura on bass, Marvin Sewell on electric and acoustic guitar, and Sullivan Fortner on piano. Together with Salvant, the group's expertise helped to develop an intimate connection with the crowd.
Stay posted for more photos, highlights, and interviews from the 2022 Newport Jazz Festival here at whrb.org.
// Sam Murdock '23 is an Ad Board member and staff writer for the Jazz Spectrum.