WHRB at Newport Jazz Festival: Samara Joy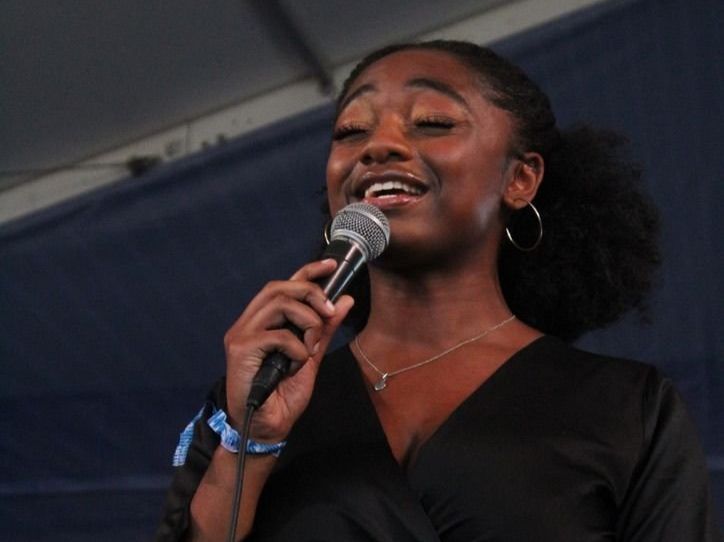 // Image courtesy of Dylan Roy
Vocalist Samara Joy took to the Harbor Stage on Saturday afternoon for her very first performance at the Newport Jazz Festival. This seemed a natural next step for the accomplished singer, who won the 2019 Sarah Vaughan International Jazz Vocal Competition and released her self-titled debut album in 2021.
Joy, a Bronx native, grew up surrounded by music. Although she says that she was "very sheltered as a kid," Joy became connected to the arts through her school's interaction with Broadway Junior and her family's own musical practices. "We would go out to see Broadway shows," she says, "and participate in a lot of those kinds of things in the city, which was cool to have access to. But all the music that I learned was from home."
Joy cites her grandparents, who led the Philadelphia-based gospel group The Savettes, and her father, a musician and songwriter himself, as some of her greatest influences. "My dad and my grandpa," she says, "seeing them perform and sing, it's just the biggest inspiration for me."
// Image courtesy of Dylan Roy
We asked Joy about the process of assembling her first studio album with the Pasquale Grasso Trio. The album, recorded in October 2020, was put together while Joy was completing her senior year of college. It is so well constructed, too, that it hardly sounds like a project recorded rather quickly in the middle of a pandemic. "The first album was like, 'we're just going to put this together,'" Joy says. "If it was up to me I probably wouldn't have recorded an album because everything was so static."
Fortunately, the album itself was anything but. Comprised of some of Joy's favorite tunes from her college repertoire, Samara Joy has 12 stunning tracks, with renditions of standards such as "Stardust," "It Only Happens Once," and — a favorite that Joy picked up while at a workshop in Rome — "If You'd Stay the Way I Dream." The album also features an incredible band, with Pasquale Grasso on guitar, Ari Rolland on Bass, and Kenny Washington on drums.
"It's been surreal," Joy says of the artists she's worked with, "and I'm very lucky to have been introduced to them because they helped a lot on this musical journey. I'm so new, and so green, and they're experienced, so it's a perfect combination for us to be connected and for us to grow together."
// Image courtesy of Dylan Roy
The synergy between Joy and Grasso was evident from the outset of her performance on Saturday. The two worked seamlessly together to infuse emotion and precision into every piece. They were joined this time by Ben Paterson on piano, Neal Caine on bass, and Keith Balla on drums, who helped create an enthralling atmosphere. Joy performed some of the standards from her first album, along with a few pieces that we haven't heard from her before.
After an introduction by festival producer and bassist Christian McBride, Joy captivated the audience with her very first phrase on the stage. While her elegant vocals called back to many of the greats before her, she also brought something entirely new and all her own to the stage on Saturday. Her stunning renditions of the Thelonious Monk pieces "'Round Midnight" and "Worry Later" showcased her emotional range and spellbound the crowd with both heartache and humor.
"It's a little scary sometimes when it comes to singing standards," Joy says. "Maybe it's easy to kind of fall back on, 'OK, these songs are already established.' But, I think at the same time, it's helped me, it's been a vehicle ... I like singing these kinds of songs, I love the message behind them — now what's that gonna sound like if I write my own music?"
// Image courtesy of Dylan Roy
Joy closed her set as strong as she started it, noting, "You can't lose if you sing the blues." Like on her tours in Europe, Joy got the audience to sing along with her as she improvised at the end of her set. As the crowd celebrated and sang in turn, one could not help but feel that we all were part of the same big, joyous band; one could not help but feel the power of music to bring people together.
While she couldn't tell us everything, Joy did hint at what we can expect from her next: "I will say that I've signed to a major label. We recorded, already, the second album. It'll be released in September, first single coming out next week."
She also talked about how her path in music has left her feeling. "I'm excited now," she says. "I feel like, since the first album, I've been exposed to a lot more music, and exposed to what I want to do. And so I'm gradually making my way ... I realize that there's a lot of music out there and there's a lot of wonderful musicians to play with and to learn from."
"I'm gradually getting into who I am," Joy says. "Becoming, I guess, the artist that I want to be."
For more interviews and coverage from the 2022 Newport Jazz Festival, stay posted on whrb.org. And take a listen to Samara Joy's latest single, "Can't Get Out of This Mood," here on Spotify.
// Sam Murdock '23 is an Ad Board member and staff writer for the Jazz Spectrum.