WHRB Reviews Boston Calling 2019!
The sun sets on the final day of this year's Boston Calling (May 26, 2019).
---
The tenth edition of the Boston Calling Music Festival took place this past Memorial Day Weekend, from May 24 - 26, at Harvard's very own Athletic Complex in Allston. The festival attracted over 40,000 attendees and featured over 55 artists and performers over the three days.
Since the inaugural festival in 2013, Boston Calling has substantially grown from a small, local affair into a nationally-recognized music festival, drawing fans from near and far. From 2013 to 2015, the festival occurred twice per year, once in May and once in September, and was held at Boston's City Hall Plaza. In 2016, the festival transitioned to its current annual schedule and moved to the Harvard Athletic Complex. A third day was added during this shift, and the festival has grown to include comedy, a larger selection of food and retail, and a greater diversity of musical tastes.
This year, the festival acts spanned music, comedy, and dance. A key addition this year was the inclusion of several performances by the Boston Ballet, which did a contemporary dance routine in the Arena. Fans were initially surprised by the inclusion of ballet at a music festival, but the performance silenced any and all skeptics. The two-person dance routine pleased audiences eager to expand their experiences at the festival.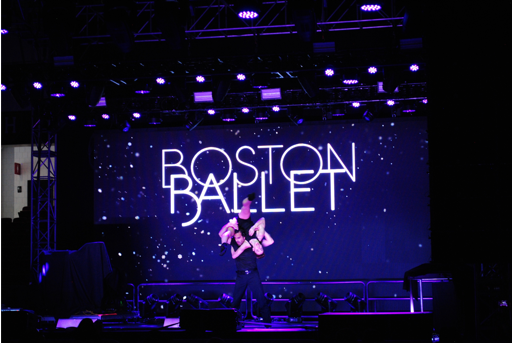 The Boston Ballet performs at the Boston Calling Arena, May 26, 2019. Photo: Trevor Bishai/WHRB
While popular music festivals usually attract a younger, more homogenous audience, the fan base at Boston Calling was remarkably diverse and multigenerational. Two friends in attendance, Suellen Seabury and Jennifer Kurzon, remarked that, having attended numerous other music festivals, they appreciate Boston Calling for its diversity. "I've been to Coachella three times and have noticed that Boston Calling is much more heterogenous than Coachella. There are families, old and young people, and there is a much more relaxed and laid-back vibe," noted Kurzon, for whom this was her ninth Boston Calling. Seabury and Kurzon, both attorneys by profession, met at last year's festival and have become good friends since.
The festival also drew many younger fans, some of whom came with three-day passes and others with single-day passes. A group of local high-school students noted that they did not come for any specific artist but instead wanted to see the overall festival, an annual way for Bostonians to celebrate the beginning of summer. The festival began in the early afternoon each day and went late into the evening. One attendee noted that "Sunday is the chilliest day," which seemed evident: the atmosphere had indeed quieted down by the third day. With a myriad of food, drink, and retail options, and amusements like a Ferris wheel and dunk tank, the festival attended to everyone's celebratory taste.
WHRB DJs Trevor Bishai and Chloë LeStage were in attendance at the festival, and took note of some of their favorite acts at the festival. While this list is in no way exhaustive, it showcases some of the immense talent and diversity in music and performance that the 2019 edition of the festival contained. Here are some of their favorite performers:
Friday, May 24
Tank and the Bangas
The New Orleans-based group made their rise to national prominence after winning the 2017 NPR Tiny Desk Concert. At their performance late Friday afternoon on the Delta Blue Stage, their quirkiness and eclectic sound came through in full force. Their music mixes elements of rap, rock, and spoken word into a broth of funk and R&B. Spoken word lines interrupt sung choruses, which all fuse into a musical product with a stream-of-consciousness feel. With eleven musicians on stage, their costumes were incredible—as quirky as the music and lyrics themselves. Lead singer Tarriona "Tank" Ball led the ensemble in a fantastic bright-green fur coat costume, which emulated the music and atmosphere of the performance phenomenally.
Fred Armisen
The award-winning comedian, master impressionist, musician, and "S.N.L." cast member showed off his multiple talents at a 5 p.m. set at the Arena. Many who hear that Fred Armisen is performing expect stand-up comedy, but that was not the case at Boston Calling. I entered the performance during an impressive drum kit solo, which occurred while he performed a survey-like overview of every style of drumming. Armisen would announce a band, such as "Pink Floyd," or a sub-genre of rock music, such as "early-2000's punk rock" and then play a 30-second long drum solo of that genre. The comedian's intermittent announcements and descriptions created an interesting synthesis of music and comedy, one that seems uniquely his. He also played some solo guitar, and the survey-style performance continued as Armisen put a map of the U.S. on the screen behind him, and, with a laser-pointer in hand, spoke in every accent in America. Laughs abound, Armisen pleased the crowd in a uniquely hilarious way.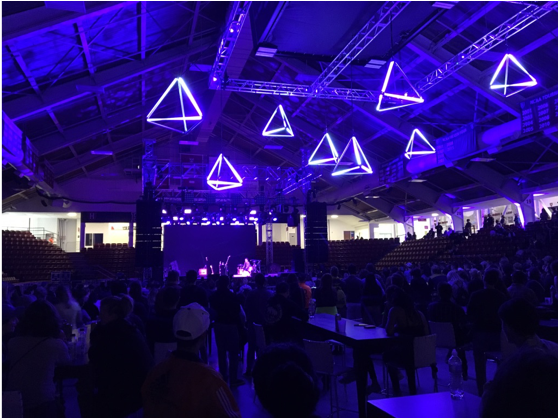 Fred Armisen playing drums during his set in the Boston Calling Arena, May 24, 2019. Photo: Trevor Bishai/WHRB
Yaeji
Undoubtedly one of the coolest performers of the festival, an absolute favorite of Friday's lineup, Brooklyn-based DJ Yaeji gave us a personable and exhilarating set in the Arena. The twenty-five year-old Korean-American electronic artist threw down techno-ey, dance-y beats the whole night. The sound system in the Arena was perfectly attuned to Yaeji's sound, as a wall of woofers that separated the crowd from the stage relentlessly forced her 4-beats down fans' chests, putting nearly everyone in a club-like trance. It seemed as if the energy of the performance continually grew throughout the set, up until the refrain of "raingurl" finished things off with exuberance. Yaeji's personality seems to fit her music and style to a T; her set was enhanced by her fun dancing and refined speech, which left the crowd in awe of her appealing personality.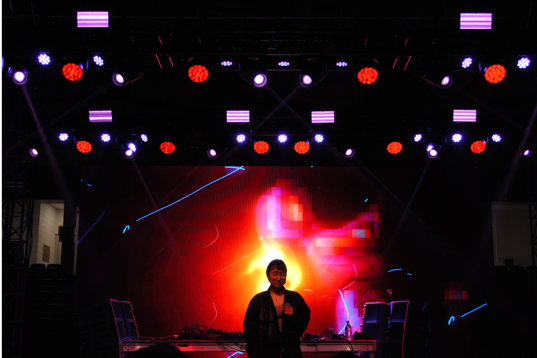 Brooklyn-based electronic artist Yaeji performs in the Boston Calling Arena, May 24, 2019.Photo: Trevor Bishai/WHRB
Saturday, 5/25
Mitski
An impressive feature of the Saturday line-up, New York-based indie rock artist Mitski gave an impassioned, multidimensional performance to a packed crowd at the Green Stage. The Japanese-American artist immersed herself in the her indie pop/rock feel of her music. Her singing was coupled with a solo theatrical act, an interpretive dance of sorts. The singer had a white table and chair that she messed with on stage, playing with it and dancing around it. Her performance style is unique, and her whole stage presence seemed to fully inhabit the music. A remarkable performance.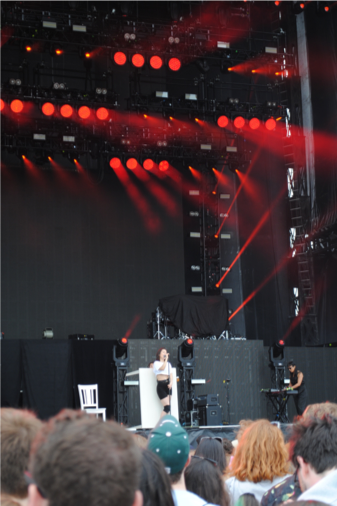 Mitski performs at the Boston Calling Green Stage, May 25, 2019. Photo: Trevor Bishai/WHRB
Anderson .Paak
Getting the Green Stage in the mood at sunset hours before Saturday's headliner, Anderson .Paak and his band, The Free Nationals, performed a festive, energetic set with the dance moves to match. Paak made his stage entrance playing drums on a platform which elevated him from behind a screen, wearing a vibrantly-colored yellow-green outfit, with his band in a uniform turquoise. Hit songs from all of Paak's albums made it into the set and got the crowd to their feet with his uniquely funky vibe. "6 Summers" and "Make It Better" seemed to please the audience the most as the sun set over Saturday's warm temperatures.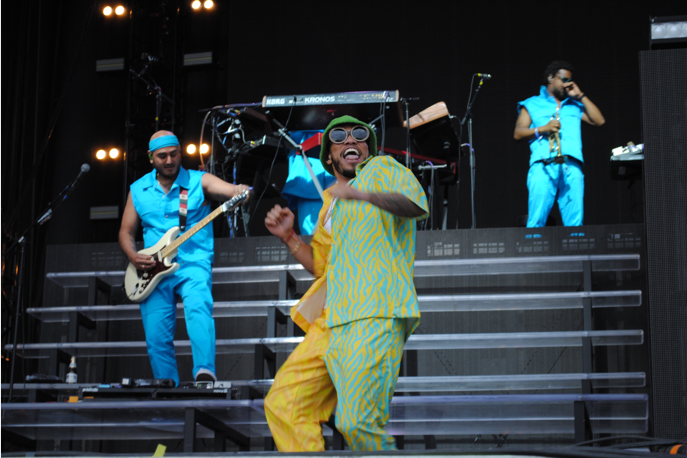 Anderson .Paak and The Free Nationals perform at the Green Stage at Boston Calling, May 25, 2019. Photo: Trevor Bishai/WHRB
Tame Impala
Headlining Saturday's lineup, the psychedelic-rock project of Australian multi-instrumentalist Kevin Parker stunned the massive audience with its unmatched sound and trippy visuals. Just after 9:20pm, an extended silence of anticipation preceded Parker's entrance onto the stage, before, all of a sudden, the opening riff of "Let It Happen" slammed into the audience in fanfare with white strobe lights, to the incredulous screams and movement of the audience. "Let It Happen" drew on for over ten minutes, skipping mid-way through (as the song actually does), and included a 30-second long stream of confetti during the last chorus. From this first song to the final one, the packed crowd seemed to be inside an orb of sound and visuals—it didn't take any time for the crowd to be absolutely captured by the band's thunderous performance. Parker played every song off of "Currents" except "Disciples," in addition to some of his newer work, such as the hit single "Borderline." The visual effects of the show were magnificent, by far the best of the festival. The ripples of the "Currents" album artwork flowed through the screens, in concert with psychedelic images which included Parker's face growing a third eye while he sang. A powerful laser show supplemented the stage visuals together with the rockstar energy of Parker and his band.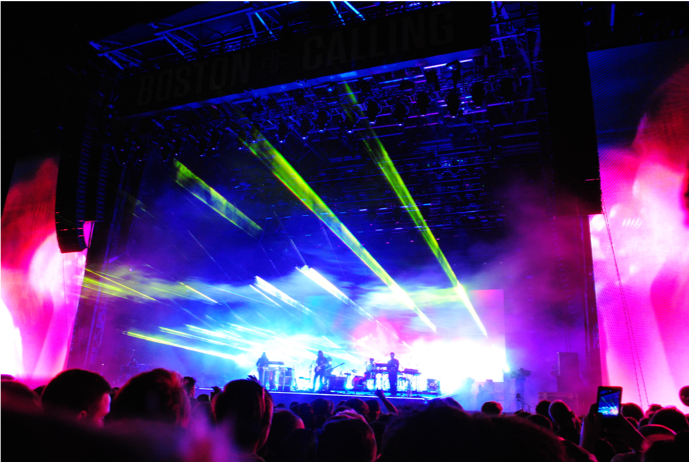 Impressive visual effects featured in Tame Impala's performance at the Boston Calling Green Stage, May 25, 2019. Photo: Trevor Bishai/WHRB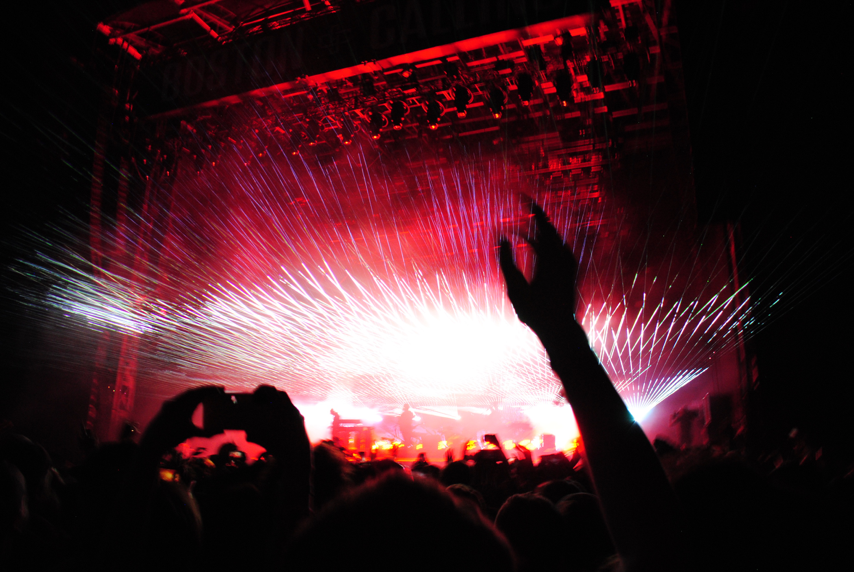 Tame Impala performs at the Green Stage at Boston Calling, May 25, 2019. Photo: Trevor Bishai/WHRB
Sunday, 5/26
Snail Mail
Under a strong wave of heat from the 3 p.m. sun, the indie-rock musician serenaded a relaxed crowd, getting everyone gathered at the Delta Blue Stage in good moods for the final day of the festival. Her song "Heat Wave" seemed much appropriate given the afternoon's temperature, but this did not deter die-hard Snail Mail fans. One of the youngest performers at the festival, the 19-year old guitarist gave an impassioned, personable performance, even playing for longer than her set time had allowed for—and the crowd loved it. A dedicated, serious musician, Snail Mail was a phenomenal component of the festival's Sunday lineup.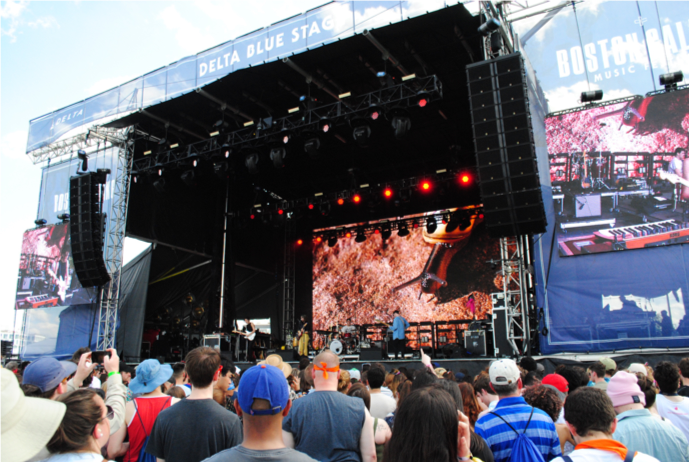 Snail Mail performs at the Boston Calling Delta Blue Stage, May 26, 2019. Photo: Trevor Bishai/WHRB
Sheck Wes
The twenty year-old rapper from New York injected the Green Stage with hype energy in his 7:15 p.m. performance. As the sun set on the final day of the festival, mosh pits formed on both sides of the stage as the young rapper performed with intention and power. Wes' set was short, but felt to be an appropriate length. With tracks from "Mudboy," Wes got the crowd energized and hyped up for the final night of the festival.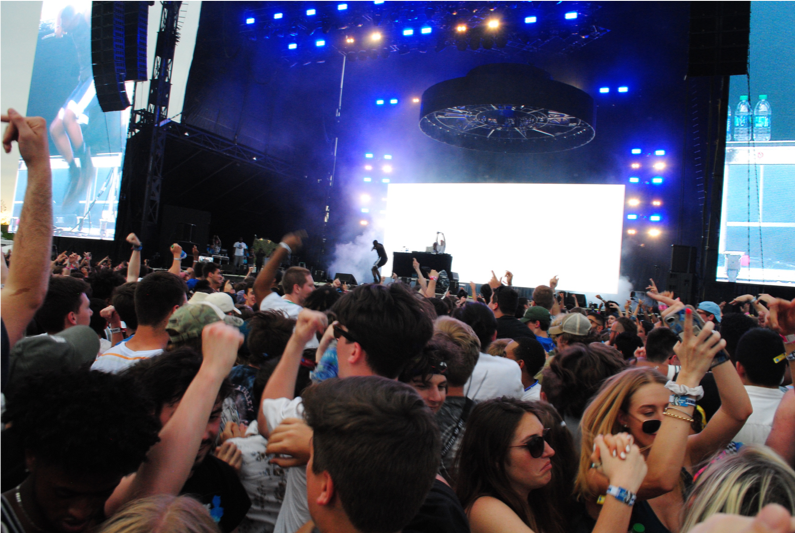 Sheck Wes performs at the Boston Calling Green Stage, May 26, 2019. Photo: Trevor Bishai/WHRB
Michael Che
The Arena filled up for Sunday's performance by the "S.N.L." comedian, the final stand-up set of the festival. The set was hosted by Puerto Rican-American DJ Cipha Sounds, who hilariously opened with commentary on the stereotypical music preferences of different races, poking fun at how the white crowd did not know how to dance to 'gangsta rap.' Perhaps best known for hosting "Weekend Update," Che performed in his classic equable style, unworried about political correctness or chivalry. "I finally made it to Harvard. Colin [Jost] went here, but he paid much more money than I did," opened Che. His set was intermittently funny, including potent one-liners, but he got caught up in an exchange between an overly-enthusiastic audience member named Amber which drew on for much too long. While some jokes landed well, Che's set leaned towards the boring side: on his Instagram story Sunday night, he himself even lamented, "I stunk."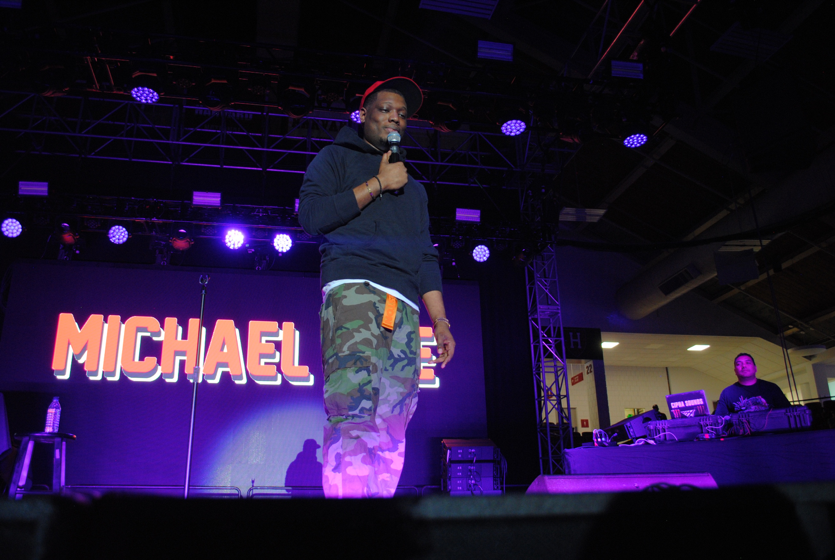 Michael Che performs stand-up alongside Cipha Sounds at the Boston Calling Arena, May 26, 2019. Photo: Trevor Bishai /WHRB
Snakehips
The British electronic music duo performed a lively set Sunday afternoon on the Red Stage, one of two sets they did at the festival. They attracted a formidable crowd, especially given the lack of popularity for electronic music at American festivals, and did a remarkable job of mixing their own EDM material with hip-hop and more popular songs. For example, songs such as "Mo Bamba" and "Crank That (Soulja Boy)" found their places in between electro-house drops, which resulted in an exciting alchemy of festival music tastes.
---
Trevor Bishai is a reporter for WHRB News and a DJ for Classical. Chloe LeStage is a studio engineer and a member of News and Jazz. All photos courtesy of Trevor Bishai/WHRB.