WHRB Reviews Ryanhood at Club Passim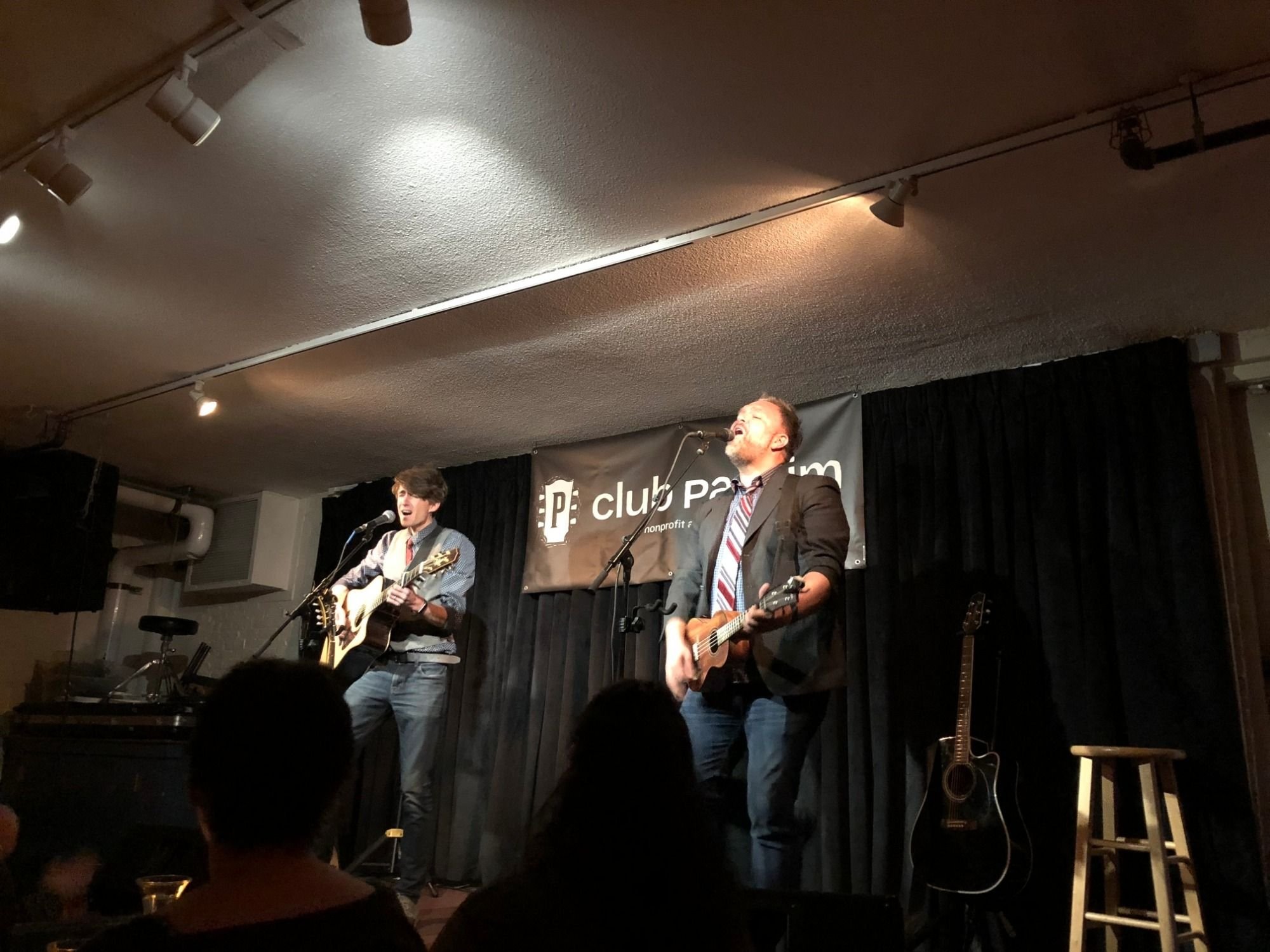 With zany mandolin riffs and impish facial expressions, Ryanhood plays with an incredible sense of fun. With the audience sitting around tables at Club Passim it felt like a gathering of old friends and family, young and old, singing the refrains together while tapping their toes or even stamping their feet.
Ryanhood is a folk duo made up of Ryan Green and Cameron Hood. Blending harmonies and an array of plucked string instruments, they create outrageously joyous music with beautiful melodies and words. Ryan's riffs incorporate slides and ornaments, channeling the virtuosity of sitar players.
Though Ryanhood's sound would be impossible to separate into Cameron and Ryan, I ask if they ever get in the way of each other. "I play higher and sing higher and Cameron sings lower and plays lower" says Ryan. "That's how we make space for each other structurally. Philosophically, I care the most about expressing myself through the music and Cameron is more about expressing himself through lyrics and story telling." Their song writing process differs from song to song; sometimes Cameron will write a poem first or the music and words will come together simultaneously but as Cameron says, "[their] favourite songs have actually come out of when Ryan wrote all the music first and then gave that to me to add lyrics to as I wanted. It's an incredible gift when someone pours in that amount of time and creative energy and then when lyrics are conceived out of that it makes the song something really special."
Ryanhood are fundamentally story-tellers. They impart the wonder of venturing into Boston with their song Red Line Reel, they communicate the excitement of becoming adults in Gardens and the Graves and they share deep personal experience and wisdom in I Didn't Put Anything Into Your Place. Ryanhood's music delights and informs in a music industry where that is often lacking. "There's a sense of homelessness in a lot of music that I hear" Cameron says. "There're a lot of songs about whisky, and heartbreak, and the road. And that's fine as a reaction to a kind of pop music that's only about the euphoric moments of getting into the club or whatever. To sing about heartbreak and whiskey and hurt is 'more real' in a way. But what's on the other side of that? Is there a sense of goodness or home that's not about denying the hard stuff, but actually passing through it? I think we want to show people that kind of home with our songs."
Every time Ryanhood returns to Boston it feels like a homecoming. Though they both grew up in Tucson, Arizona and live there now, Ryanhood was formed playing in Quincy Market and on the Boston college circuit. "We'd peak in the windows of Club Passim and would say to each other that when we got to play here we would know that we made it" says Ryan. "Every time we go back to Boston it's a re-finding of who we are: two guys who love to make music."
And come home they have. As the show draws to a close, smiles beam from around the audience and people call out encores, always asking incredibly politely. Someone asks for an old song which Ryanhood hasn't played in a while, but after some nervous laughter and whispers between the two of them, Ryanhood decides to play an impromptu medley, on the condition that we would be forgiving. The raucous choruses have the room clapping along, their deft fingers need no apology. As each final chord tumbled into another new song, neither the audience, nor Ryanhood ever wanted it to stop.
---
Angela Eichhorst is a DJ for Record Hospital. You can hear her show every Wednesday night from 2am to 3:30am. Record Hospital airs weekdays from 10pm-5am.