Taking A Knee: A discussion on the NFL's national anthem protests with Professor Timothy McCarthy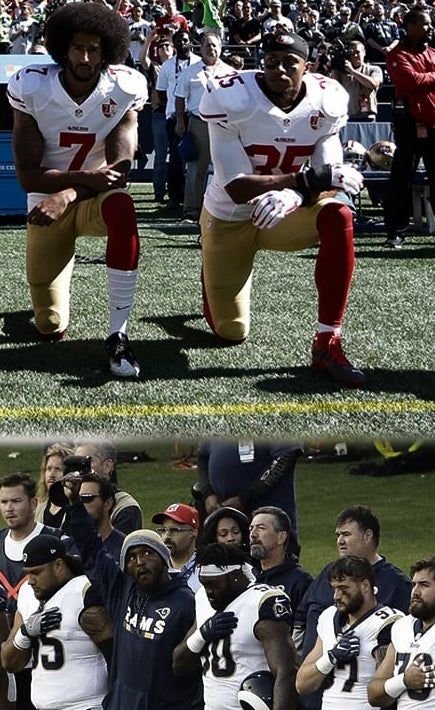 Listen
Award winning scholar and educator, Professor Timothy Patrick McCarthy joins your host Brandon Wachs to speak about the NFL's national anthem protests that have been taking place. Professor McCarthy lends his expertise in the art and literature of protest to help us break down and understand the protests that are currently taking place in the NFL. The duo break down the original motives behind the protests of Colin Kaepernick when he took a knee during the national anthem while a player for the San Francisco 49ers. The discussion then shifts to the motives of the NFL owners in their participation in the players protest after the statements that Donald Trump made condemning the NFL players. Specifically answering the question of whether the statement of unity is the same as a message against police brutality. Professor McCarthy tackles the questions of the meaning of the owners joining the protest and what the difference between the message of unity and the original message of this protest are. Furthermore, the duo discuss the existence of patriotic and military presentation before sports events in America. Then, Professor McCarthy lends his opinion on the topic of athletes being agents of social change and radicals in their own right when it comes to protests in America. Overall the duo touch on a number of subjects surrounding the intersection between politics and athletics, the military and athletics, patriotism and athletics, and the significance of what is currently taking place in the NFL.
Highlights of the show:
- Discussing the power and significance of the display of unified protest in the NFL over the weekend.
- Should patriotism hold such an important role before our sporting events?
- What message are the NFL owners really going for here?
- How "unity" against Trump whitewashes the protest.
- The role of the radical athlete in society and how the professional athlete is empowered to be radical.
- The mythology of the founding of the Olympics.
- Americans romanticism of Sports and Race.
- The history of other American athletes that have been radicals in society - Jesse Owens at the Olympics in Nazi Germany.
- The marriage between sports culture and military culture.
Related links:
https://carrcenter.hks.harvard.edu/people/timothy-...
https://www.nytimes.com/2017/09/25/opinion/colin-k...
http://www.politifact.com/truth-o-meter/article/20...
Brandon Wachs is the Sports Director for WHRB Sports.
Please check back in periodically for more of our WHRB Sports Special Features. Also make sure to follow us on Facebook, Instagram, and twitter @whrbsports. Catch our Sunday Sports Talk every Sunday from 1-2 PM.