WHRB x Gov Ball Day 1: Michael Blume Interview & More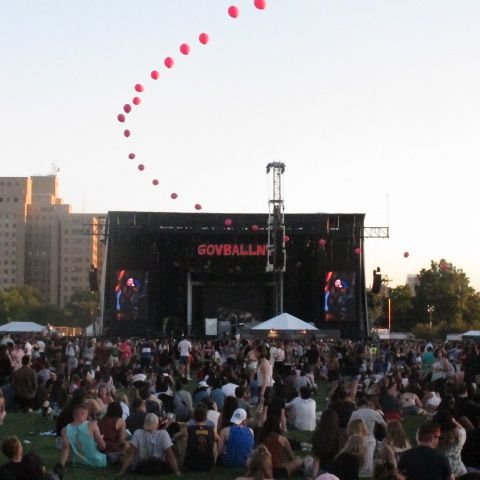 Listen
Day one of Governors Ball was a whirlwind. The soft sun illuminating Randall's Island, festival-goers covered in glitter and flash tattoos wandered in eager ecstasy across the festival grounds, past the taco stands, around the mini golf course, through the heat of a day's work and play. By what feels like a happy accident, Gonzo and I were there among them. We spent the day dipping in and out of the crowd, conducting interviews and soaking in all the music we could.
The first full set we caught was Michael Blume, whose upbeat R&B was supported by a ten-piece band with drums, brass, guitars and backup singers. An LGBTQ activist, he showed his political consciousness through his songwriting - he performed a track written the day after the presidential election, communicating the need for hope and togetherness in times of tyranny and strife.
We spoke with Michael about his background in music, his goals and future plans. He stressed the importance of developing a strong sense of self and encouraging individuality for artistic development. Check out the recording above.
The sun and the afternoon were then witness to the energetic indie pop realm of Bleachers, fronted by Jack Antonoff of fun. We didn't catch the whole set, but we were able to hear some tracks from their LP "Gone Now," released yesterday, and their radio hit "Rollercoaster" that features Charli XCX.
Charli didn't join Jack onstage, though, as she had been performing her own set - sonic bits and pieces floated by as we talked with Tkay Maidza, Australian rapper extraordinaire. Tkay shared anecdotes about her collaboration with Killer Mike, her very first demo - which was a Kanye remix - and more. She was endearingly excited when we overheard Charli bringing rapper CupcakKe onstage in the distance. Audio here.
The rest of the evening included sets from a stacked lineup of big-name artists. The first was Danny Brown, whose rap transformed the crowd into a club, provoking dancing, jumping and actual screaming. I was most struck by the varied textures of his music, composed of both traditional percussive sounds and more clearly electronic synths.
Schoolboy Q performed a loaded set, with hits including the iconic "Man of the Year" and "Collard Greens." Die-hard fans rapped along with him - just barely keeping up with Schoolboy's incomparable flow. His energy fluctuated, rising and falling to keep us on our toes. When you thought he had nothing left, he came and hit you right back.
Lorde wooed an enormous audience with her soft-spoken stage presence, singing songs from her debut album "Pure Heroine" and some from her upcoming release "Melodrama." Jack Antonoff, who helped write and produce "Melodrama," reemerged to play piano for one of the new tracks. The album marks uncharted emotional waters for Lorde, whose first release was lauded for its spare orchestration and detached view of modern culture.
Beach House drew a smaller crowd, but their stage presence was no less enchanting. I got the sense that some of the crowd were discovering the band for the first time, slowly but surely falling for the reverb and distortion. A deep sense of calm pervaded the surrounding area, the earthy depth of their dream pop enveloping each of us.
Friday's headliners tore us from that waking dream as Flume lit up the night, drawing a huge crowd of ravers and spectators. Chance the Rapper performed hit after hit, relentless in his warmth and optimism, urging people to sing along - we gladly obliged. His feel-good rap tied up the day on a cheerful note. With infectious joy and charisma, Chance has a simple, organic way of bringing people together.
In short, a rock-solid first day. During her set, Lorde mused, "Could it be any more beautiful tonight?" I thought not. With the Manhattan skyline sparkling in the distance, the dusk closing in gently, stage lights casting shadows through the haze, this seemed like the best, the only place I could be. We can only imagine what Saturday has in store.
Sophia Higgins is Music Director for Record Hospital.