WHRB x Gov Ball Day 2: Jack Martini Interview & More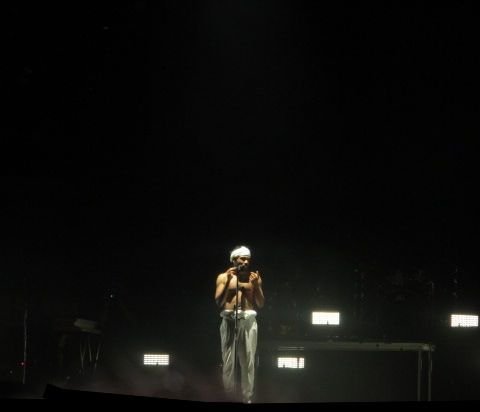 Listen
Day Two of Governors Ball was another sunny, perfect day; not too hot, not too cool. After a brief pit stop to pick up free mini-sandwiches at the Subway Green Room, we set about our journalistic business. This was our most packed day of interviews: we talked to WELLES, Lo Moon, VANT and Jack Martini (audio above). Jack, who is a student at Berklee, told us about his influences, his music videos and his favorite venues in Boston. Due to our busy schedule, we were only able to catch two sets, but what incredible sets they were.
First off was the legendary Wu-Tang Clan, celebrating the 20th anniversary of the album "Wu-Tang Forever" (June 3, 1997). All surviving members of the group appeared onstage, plus the late Old Dirty Bastard's son, Young Dirty Bastard (who rapped his father's verses), and a surprise guest appearance from Redman.
Despite their age, Wu-Tang's energy was intense as ever. Their verses were as raw as if they were still freestyling in the streets of Shaolin - especially when they closed with an a capella performance of "Protect Ya Neck." They performed only the classics, thankfully avoiding songs from their critically maligned recent releases. Unfortunately some technical difficulties affected their set, particularly GZA and Redman's malfunctioning mics. But the fans in the crowd knew every word and rapped along, maintaining the momentum and never missing a beat.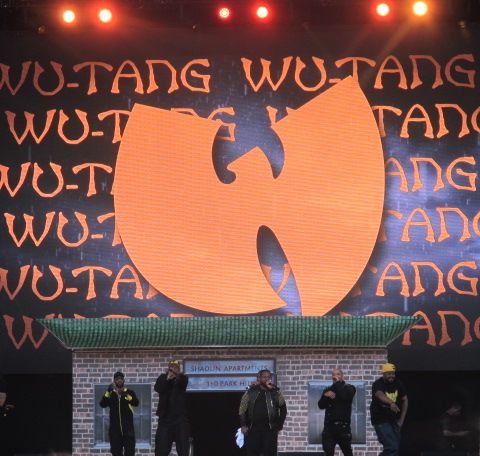 _The stage setup for Wu-Tang included a backdrop of the Shaolin Apartments.
_
We caught Saturday's headliner, Childish Gambino (born Donald Glover), performing his only scheduled show of 2017. His set included hits and deeper cuts from his most recent albums "Awaken, My Love!" and "Because the Internet."
Accompanied by a massive band - xylophones, drums, synth and more - and several backup vocalists, Gambino's live sound held an air of maturity and complexity. Leaning into his new psych-funk tendencies, the live set had the feel of a jam band, even escalating into an extended organ solo at one point. The experimental lines he cast out with "Because the Internet" and the "Kauai" EP have tied together neatly - each sound, each texture is heavily thought out, forming a sophisticated and cohesive mix.
Maybe this maturity of sound reflects Bino growing up. He's a father now - the song "Baby Boy" was dedicated to "everyone in this crowd and my young son, Legend." While performing "Sober," he altered the second verse to express his new perspective about growing up and becoming "a real man."
That being said, you can't take the party out of Gambino. At the end of his (tragically short) encore, he showcased his talent for storytelling with a long hypothetical about seducing a girl at a party. As Gambino narrated, dancing and strutting across the stage, a DJ from his backing band played a varied sequence of tracks (including V.I.C. and Soulja Boy's "Get Silly" and Rihanna's "Sex With Me"). All this served as a prelude to the acclaimed single "Redbone," aka "the perfect song to make out to [in a bathroom]." The more you know!
With Glover's increasingly successful TV career - see the extensive list of accolades for "Atlanta" - fans often operate under the pretense that any performance could be his last. Luckily, just before he exited the stage, he gave us some peace of mind: "I'll see you guys for the last Gambino album." We look forward to it.
David Gonzalez-Dysinger is Department Head for The Darker Side. Sophia Higgins is Music Director for Record Hospital.