WHRB x Gov Ball: The Final Recap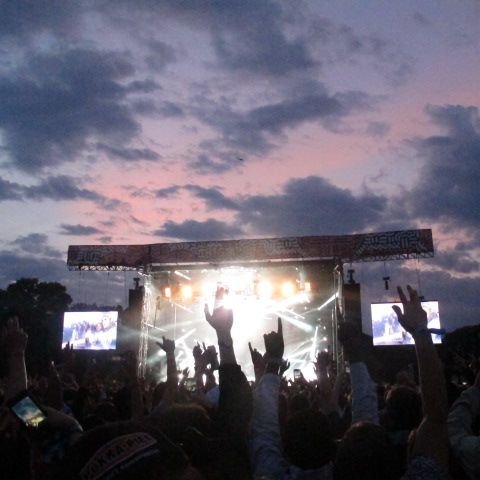 All good things must come to an end, and so it goes with Governors Ball. The final day of the festival was cloudy and rainy, but that didn't make it any less joyous or festive. In addition to the usual contingent of young festival-goers in tank-tops and bandanas, Sunday saw the arrival of a large number of hard-rocking, mostly middle-aged Tool fans, dressed in black and eager to see their favorite band headline the main stage.
We had the pleasure of interviewing Ron Gallo, whose garage punk tracks are composed of cynical and blunt lyrics. But he has a hopeful perspective, which shines through once you talk to the guy. Check out the interview here.
His set was one of the first of the day, but he still drew a crowd, many of whom went from curious to enthusiastic over the course of the performance. Ron's punk roots showed and melded with his more spiritual and humanist leanings - the intro to one of his tracks featured an Om chant over Minor Threat's "In My Eyes." Despite the music's heavy subject matter, Ron and his band were clearly having fun - he even played guitar using a traffic cone that happened to be lying around on stage, eliciting cheers from the audience.
Ron Gallo's album "HEAVY META" is out on New West Records.
We briefly split up after the Ron Gallo interview to see The Orwells and Parquet Courts, whose sets were simultaneous. Sophia caught the first half of the Orwells, while David caught the second half of Parquet Courts.
The Orwells tore up the main stage with their carefree garage rock. While the sky was looking gloomy, the band got people dancing in the rain and mud. Sunny but sturdy guitar riffs, relentless snare and a joyfully flailing front man made for a solid set from these Chicago natives.
The first thing you hear as you cross the festival grounds toward Parquet Courts' stage are the tight, monstrous bass lines of bassist Sean Yeaton; quite different from the booming 808s of the hip-hop and EDM acts at the festival, but no less viscerally satisfying. Their noodly, intellectual post-punk translated surprisingly well to the festival stage, inspiring mosh pits and sing-alongs. For the final song of the set, Parquet Courts unleashed an epic ten minute jam that had the whole crowd dancing their hearts out.
Late afternoon, and the rain still surrounded Randall's Island. Amid the muck and mire, Mac DeMarco warmed our hearts with his dreamy guitar-driven odes. A notoriously chill guy, he embodied the laid-back party persona - he and his band smoked cigarettes onstage, chatting casually with audience members, even bringing a fan up to join them. He brought a sizable posse along, too, who hung out side-stage to watch the band perform. With abounding reverb, he performed new songs from "This Old Dog" as well as popular tracks from his previous releases, particularly "Salad Days" and "2."
Some festival staff hung hammocks beneath the stage, just next to the front row of Mac Demarco fans.
Next we caught The Avalanches performing under the rain-sheltered pavilion that was the Bacardi stage. One of the most innovative acts on the festival lineup, these fun-loving Australians encompass a hodgepodge of genres including hip hop, funk and pop. In addition to the two regular members of the group - who produce the records, DJ, and play bass - The Avalanches performed with a band and two vocalists (singer Eliza Wolfgramm and rapper Spank Rock).
The choice to include Wolfgramm and Spank Rock reflects The Avalanches' eclectic sonic influences and collaborative approach to music. Their music is characterized by its heavy use of samples, and their most recent album "Wildflower" features a host of guest vocalists. Wolfgramm performed in a neck brace, but that didn't hold her back in the slightest - at one point, she told the crowd that if she could dance with a broken neck they had no excuse not to go wild. The group also brought their original sound to covers of The Clash's "Guns of Brixton" and The Beatles' "Come Together."
Between the visual projections, which included footage from TV shows like Seinfeld, Beavis and Butthead and Daria, the dynamic scratching of the DJs and the stage presence of Wolfgramm and Spank Rock, this set was a definite highlight. As the group closed with the beautiful "Since I Left You," we were left dreaming of a future in which they headline the festival.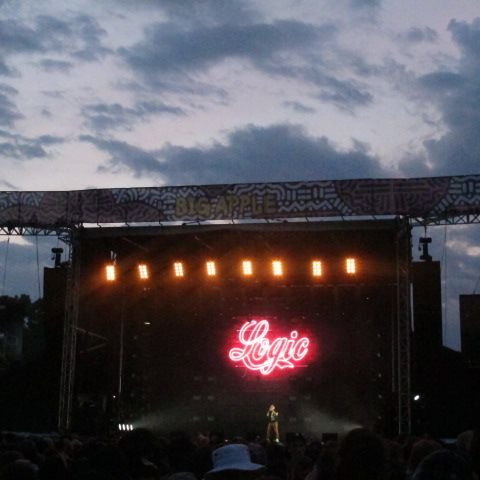 During his performance, Logic singled out several fans, asking their names and offering kind words.
We then came to the last full set we watched - Logic, who lit up the night as he spit lightning verses and preached a message of love and acceptance. This Maryland native is the hero we need, not the hero we deserve. His rap tackles heavy issues (race relations, depression, self-doubt) with a message of hope and resilience, and his set created a supportive atmosphere that embraced emotional vulnerability. The song "1-800-273-8255," the title of which is a suicide prevention hotline, moved many fans to tears.
All the while, Logic's stage presence was humble and gracious. He gave a shout-out to Mac Demarco for being friendly and kind (an exception to the "don't meet your heroes" rule) and continually expressed his gratitude for the opportunity to perform. It was apparent that he has deep love for his fans; throughout the set, he would point out specific members of the crowd, ask for their name and age, and give them words of encouragement. He also recognized a front row fan, who had attended his first gig ever, and challenged a teenager to rap one of his tracks as fast as possible.
And let it not go unsaid that Logic is incredibly technically skilled. He was the only rapper we saw who freestyled onstage, and not just for a ten-second stint - he went for a solid minute at least, a cappella and at top speed. While many of the crowd dispersed before his set was over (presumably to trying to get good spots for Wiz Khalifa), we stayed to the last second. We left in awe of his positive energy and undeniable talent.
At 9:15 p.m., the die-hard Tool fans finally saw their dream become reality as the band took the main stage. The dark, industrial sounds of their alternative metal were accompanied by elaborate horror animations that would be at home in the Alien franchise. After their first song, the band (known for their renunciation of party politics) declared that our "real enemy" is ignorance. Unconvinced, we decided to stop by Wiz Khalifa's set.
We were able to catch a few songs, including some remixes, i.e. Wiz playing a popular tune and rapping over it. Our personal highlight was the first verse and chorus of Nirvana's "Smells Like Teen Spirit," which played unadulterated over the massive festival speakers.
After getting a picture in the festival ball pit and grabbing one last burrito, we began the long walk off the island and into Queens. Walking became a nearly meditative state, a quiet mental break from the weekend's adventure. Looking back, it's almost surreal to consider the plethora of talented musicians we encountered at the festival. We are so grateful and hope to return next June.
Until then - as Jesse from WELLES put it - don't listen too hard.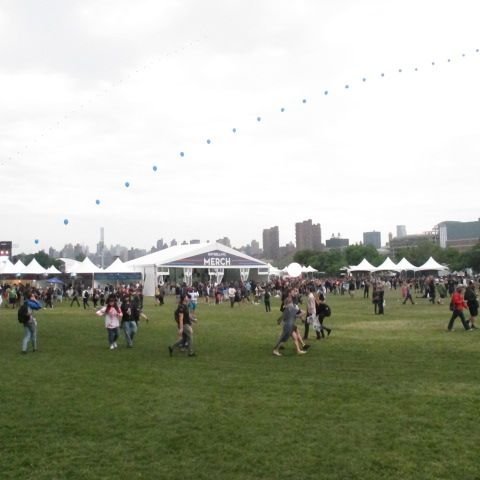 David Gonzalez-Dysinger is Department Head for The Darker Side. Sophia Higgins is Music Director for Record Hospital.