Why We Need Tonality in Contemporary Classical Music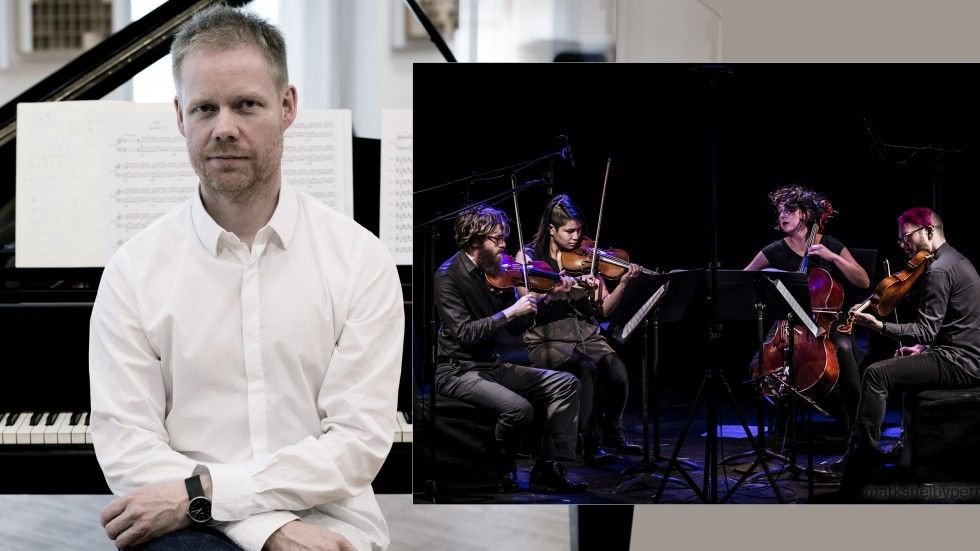 Listen
Photo courtesy of the Celebrity Series of Boston
While contemporary classical music nowadays is often criticized for being inaccessible, unintelligible, and unenjoyable, some composers are aiming for the opposite effect. At WHRB, we recently interviewed two such composers: Max Richter and Clarice Jensen. Both are performing at the Berklee Performance Center on the evening of October 11th in what promises to be an exciting concert presented by the Celebrity Series of Boston. Richter on keyboard and electronics will joined by four members of the American Contemporary Music Ensemble which is directed by cellist Clarice Jensen.
British composer Max Richter, born in 1966, is trying to create understandable music with what he calls a "plain-speaking quality." When I spoke to Max Richter on the phone, he told me that he studied composition during a time when a complex inaccessible style was considered the only game in town. "Anything sort of tonal or easily understandable was kind of, by definition, bad music. I never really bought into that idea; I found it troubling."
Richter also believes that musical compositions are intricately tied to the politics of their time. The two pieces he'll be performing this Thursday are The Blue Notebooks and Infra, which both carry political messages. Richter has described The Blue Notebooks as a protest album about the Iraq War, while Infra is a ballet which addresses the 2005 London terrorist bombings. Though the pieces were composed in 2004 and 2010, respectively, he thinks that the political themes of both are still relevant today.
Richter's simple compositional style is connected to his politics, as well. "A lot of the composers from the modernist era were avowed socialists, and yet the music they were making had an almost totalitarian characteristic in that it was only for specialists. What I wanted to do was move away from this very ultra-complex style and try and make a language which felt simple. That's not to say that it necessarily is simple, but I wanted something which would have a directness and a plain-speaking quality. That meant a return to and an engagement with tonal structures, with tonality. If you're trying to have a conversation with someone, you want them to be able to understand you."
While some modernist composers have chosen to reject tonality altogether, Richter revels in tonality's beauty. "Tonality is an extraordinary thing. It's this wonderful cultural elaboration of the harmonic series. The harmonic series is the harmonic series - that's embedded in the universe, so we can't really argue with that. Tonality is this superb cultural enlargement of the potential of that. My own approach to tonality is kind of a conversation with previous versions of tonality. At some level, all music is about other music. I very much enjoy that conversation with previous tonal languages."
Cellist Clarice Jensen, the director and co-founder of the American Contemporary Music Ensemble, also has an interesting perspective on the way contemporary music should be enjoyed today. While she does not necessarily require that contemporary music explicitly engage with surrounding society, she does believe that contemporary music is "any music which feels relevant."
Furthermore, Jensen's recent projects challenge the way classical music should be consumed. NPR compared her solo debut album For This From That Will Be Filled to the ambient music of Brian Eno, which accommodates "many levels of listening without enforcing one in particular." This seems like a stark contrast to the classical music concert which demands one's full attention. In a more extreme project in 2015, Jensen and the American Contemporary Music Ensemble performed Richter's eight-hour long piece titled Sleep live to audience members lying on beds.
But Jensen emphasizes that we can enjoy classical music anywhere, anytime. "It's not like people aren't listening. It's like they can't help but listen. There are just different ways of listening. If you're in a typical traditional concert with dark lighting and bright lighting on stage, and it's a bit theatrical, you're obviously going to have some pre-conceived idea of what you're in for. I think it's also interesting when you're listening at home, actually. You can have music on and music can accompany your life, and that's really beautiful, too. Music has a way of accompanying our lives and our existences in ways that make it more poignant."
You can buy tickets for the Richter/American Contemporary Music Ensemble concert which is presented by the Celebrity Series of Boston here. Allison Pao is a radio host for WHRB Classical. This semester (Fall 2018), you can hear her on-air on Sundays 3-6pm.