WILLOW brings a night of Black pop-punk to Royale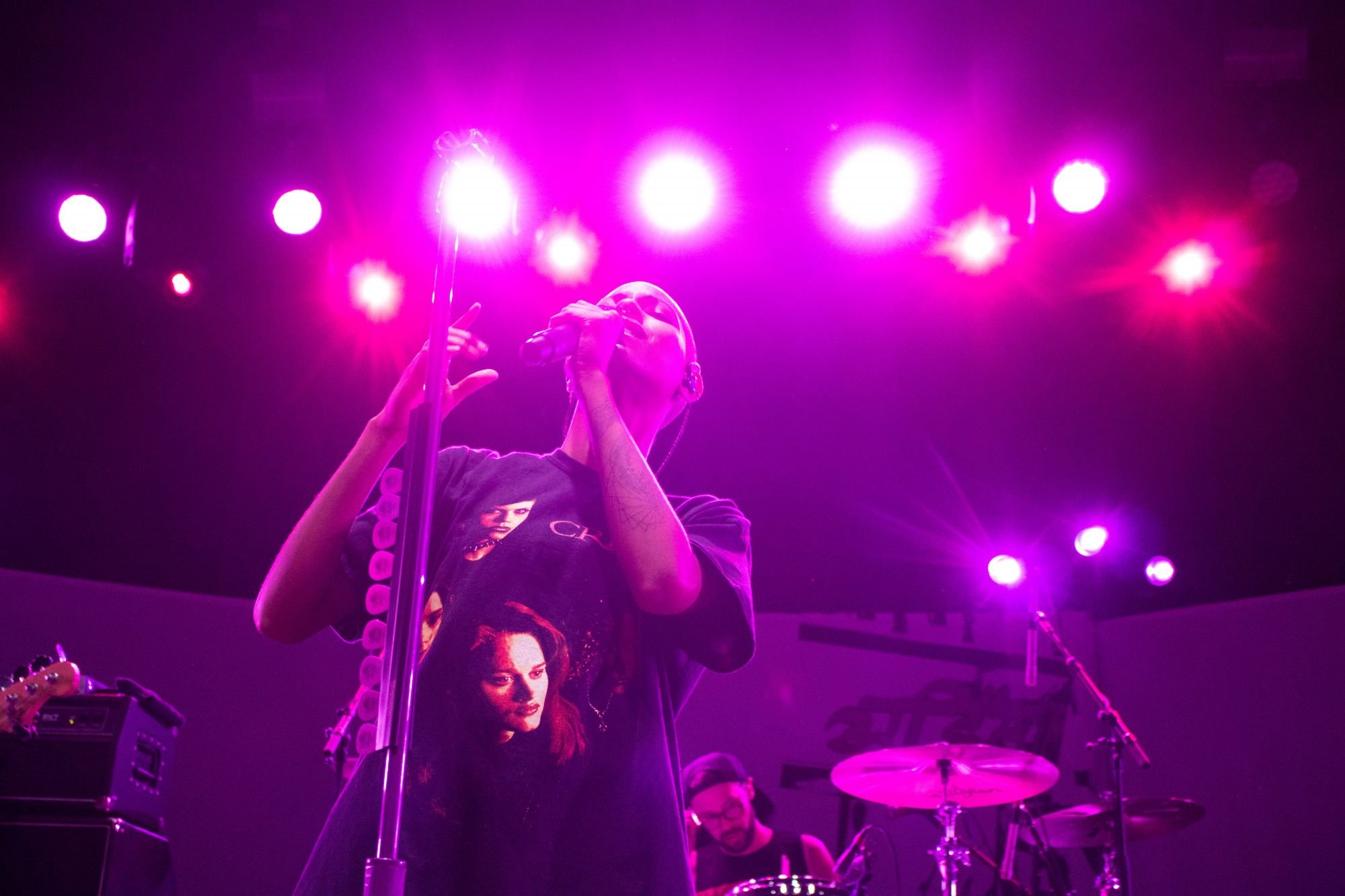 // WILLOW. Image courtesy of Ife Omidiran, @ifeon35mm.
This summer, WILLOW released her fourth solo album lately i feel EVERYTHING, an album that represents a shift away from the dreamy, psychedelic, and experimental R&B space of her previous projects toward a pop-punk/rock sound that allows her to explore the excess of emotion the album's title references. On October 13th, WILLOW visited Boston's Royale on her lately i feel EVERYTHING tour, the seventeenth stop on a 19-show tour across the U.S. Punk in general and pop-punk more specifically continue to be dominated by and associated with white men, despite how integral Black musicians were to the development of the genre. Against this backdrop, WILLOW's foray into pop-punk is especially delightful to listen to in LP form and it's even better live in concert.
// Kid Sistr — from left: Sabel (guitar, vocals), Rebecca Webster (drums), and Sara Keden (bass, vocals). Image courtesy of Ife Omidiran, @ifeon35mm
Kid Sistr, a New York indie rock trio, opened the night. They demonstrated their command of a wide range of genres with a mix of upbeat jams like their forthcoming single "Palpitations," as well as slower, more introspective ballads like "Dallas." Keden got raucous cheers and applause from the audience when she introduced "Please Dump Him" by saying the song is about her "little sister's shitty ex-boyfriend, fuck that guy," accompanied by a middle finger.
// DE'WAYNE. Images courtesy of Ife Omidiran, @ifeon35mm.
DE'WAYNE, a self-described alternative singer/rapper who's originally from Houston, followed with an electric pop-punk performance. After playing "National Anthem" and "Radio-Active," two songs from his debut album STAINS, he stopped to show appreciation to the crowd for bringing energy and thanked WILLOW for inviting him to the tour. Not long after, he kept the energy high, asking the crowd "Do y'all mosh?" before performing the high-energy title track "Stains." The answer to his question was a resounding yes — the audience moshed and raged for the whole song. He finished out his set with a cover of The Stooges' "I Wanna Be Your Dog" that channeled Iggy Pop, while also adding DE'WAYNE's own personal brand of sex appeal, confidence, and floor humping.
// Image courtesy of Ife Omidiran, @ifeon35mm.
Clad in an oversized The Craft shirt, ripped fishnet tights, and a closely-shaven haircut, WILLOW entered the stage slinging her guitar and began by playing several tracks from her newest album lately i feel EVERYTHING. She delivered captivating performances of "t r a n s p a r e n t s o u l," "Gaslight," and "G R O W" to an audience that shouted along to every single word. She stopped to clarify that at the end of the chorus of "Gaslight," she's declaring "I'll just love me instead," not asking to be loved, as some people have misinterpreted the lyric. The crowd gave WILLOW a warm welcome to Boston, and a few people threw gifts like flowers and a hat to the stage, which she graciously accepted. After playing a few more songs, she stopped to light a blunt, to loud applause and cheers from the audience.
// The Anxiety. Image courtesy of Ife Omidiran, @ifeon35mm.
WILLOW slowed things down a bit with a few songs from her self-titled album, reminding us of her impressive comfort with jumping from one genre to a vastly different one between projects and within them. She played "Female Energy, Part 2," "Time Machine," and "Overthinking IT," then brought out special guest Tyler Cole to perform some songs released under their collaborative project The Anxiety. They started with "Meet Me At Our Spot," which the whole crowd shouted every word to, and they also performed some less-viral songs from their self-titled album. Although the audience didn't know them quite as well as "Meet Me At Our Spot," the pair brought a lot of energy and got the crowd moshing to "Hey You!" and "Fight Club."
// Image courtesy of Ife Omidiran, @ifeon35mm.
WILLOW kept the crowd hype when she got on drums to play the interlude "F**K You," and then gave a soulful a cappella performance of "Marceline," the first song from ARDIPITHECUS she played all night. She ended the night with "¡BREAKOUT!," the angsty, guitar-driven closing song to lifE that beautifully tied up both the pop-punk album and her show. After saying goodnight and leaving the stage for a few minutes, she returned with "Wait A Minute!" as the encore song, a perfect end to the energetic set that spanned the best of her discography.
// Ife Omidiran '22 aka fllmn (pronounced full moon) is a DJ for The Darker Side and a guest writer for The Record Hospital.