ZUMIX: The Voice of Youth in Boston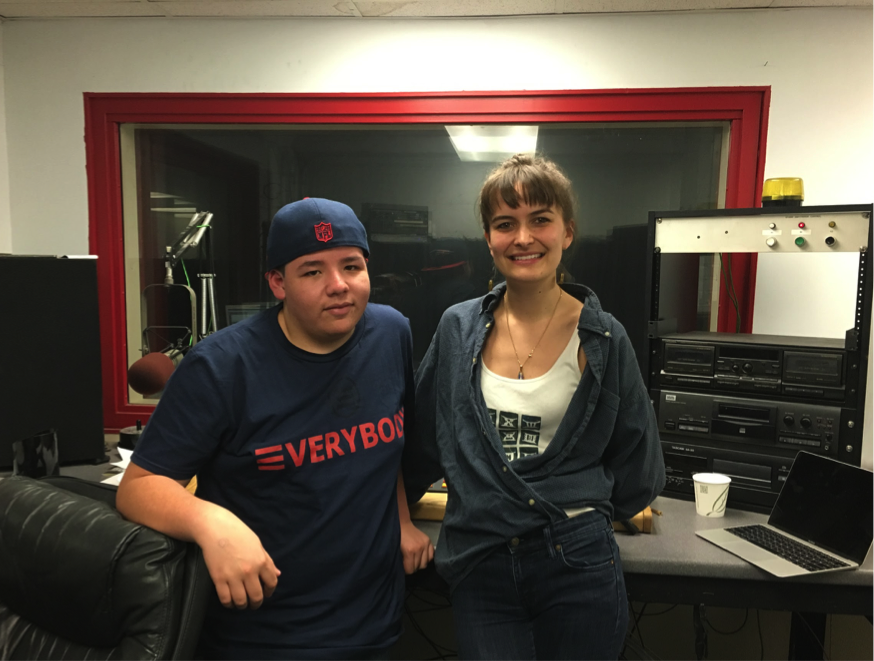 Listen
ZUMIX members Abe and Brittany at WHRB's studio.
---
"There are youth who are going through some rough times right now–we're all going through some rough times. Through music, I'm able to send a message so that hopefully somebody out there going through a rough time can finally rise up for themselves."
Abe has been a creator at ZUMIX since seventh grade. A community-based organization in East Boston, ZUMIX provides youth arts programs–including songwriting, instrumental instruction, and audio technology–and maintains a 24-hour radio station which broadcasts a mixture of adult and youth-produced programming. Now a sophomore in high school and a ZUMIX Radio DJ, Abe visited our studio with Brittany, the ZUMIX Radio Station Manager, to talk about youth voice, inspiration, and ZUMIX's impact on Abe and the community.
In an audio piece that he created at ZUMIX, Abe tells his story about rapping in Boston and artistic expression. This is followed by the short interview with Abe and Brittany.
How did you get involved in producing content?
In middle school when I was listening to songs, I started listening to the lyrics and rapping along. When I finally gave it a shot, I felt that this is what I'm meant to do with my life. I feel like through every song that I write, I have a message to send out to somebody.
What does it mean to you to be youth producer?
On my radio show, I talk about social issues that are going on in kids' lives. I relate to bullying in school. I relate to having anxiety. So I thought that if I could learn some facts and spice it up a little bit, I could raise the bar of hope for some people.
How has ZUMIX impacted you since you joined?
If it weren't for ZUMIX, I honestly don't know what I would be doing with my life right now. I could be one of those people who end up in the street, getting in trouble with the law, or doing drugs. But thank god that I'm not one of those kids.
All my life, I struggled to speak up for myself. I was a shy kid, and I had no friends. And through ZUMIX, I was finally able to go from being a shy kid, to standing up for myself, putting my emotions out there, letting people know how I really feel. And through that, people actually understand me for who I am. I don't want to give that up.
To Brittany: How do you see ZUMIX's relationship with its community?
I think there's an openness to what we do that embraces a lot of different types of content. We have shows that are pretty plugged in to the work of other organizations. And so the station functions in that way, in which it's really helping elevate the work of different community-based organizations, and also individuals with passions and interests and stories. Just this morning, I was cleaning out this filing cabinet of past classes and found the most hilarious stuff in there, stuff that on its own doesn't really have meaning but together it shows that the radio station provides this opportunity to connect across sometimes really random things but brings us together around those conversations. I think that's what's most beautiful about it to me.
Abe now has a radio show on Wednesday nights at 6 pm. Make sure to tune in at ZUMIX.org or 94.9 fm!
---
Xilin Zhou is a producer for WHRB Classical, a DJ for Record Hospital, and a member of the WHRB Board.